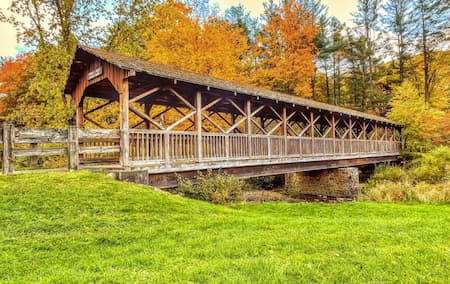 Known for its primitive and forested valleys, Allegany State Park is one of a kind in western New York State. The wildlife, fall leaves, and the unglaciated landscape here will leave you in awe for years to come. It isn't without reason that the State Park is considered Western New York's wilderness playground.
Divided into two sections, namely the Quaker Run Area and the Red House Area, Allegany State Park has something to offer to everybody. Here are some interesting facts about its history and place in the region today. The park currently spans over 65,000 acres, making it the largest state park in New York.
History of Allegany State Park
Did you know that the construction of this State Park took over four years? Over a century old, Allegany State Park's humble beginnings started in 1921 on 64,800 acres of land.
Shortly after the approval of an act of the New York State Legislature, two pieces of land were purchased in the Quaker Run Valley. However, there was an interesting condition involved. Only if private funds were able to raise $25,000 would the state provide an equal amount for the land purchase.
Albert Fancher, popularly known as the "Father of Allegany State Park," is also the man who led a team of five people to develop this empty piece of land. It is no surprise that the park continues to grow to this day. The park contains several historic sites, such as the Stone Tower and the remains of the Red House Sawmill and the CCC Camp Seneca.
A lesser-known fact about this park is that it facilitated the storage of several World War 1 Army tents. However, the streak of amazing facts about this place doesn't end here. It is home to the famous Science Lake, which was first built in 1926 as the official area for swimming.
Close to it was several science laboratories, an assembly room, and the Allegany School of Natural History. As the years passed, more and more facilities were added to it. Some of them, including the bike and horse paths, hiking trails, and full-service cottages, are still operating today.
However, the ski facility constructed in the 1930s had to be closed 50 years later due to a lack of repair facilities. It was in the 1960s that the park underwent a significant expansion. It successfully managed to cover the towns of Elko, Red House, and even Carrollton.
Unfortunately, many people had to be evicted from Red House and Elko due to the construction of an expressway and a dam. While some areas were successfully vacated, others failed to adhere to the orders. To this day, there are almost 14 houses with 38 residents staying in a tiny northwestern corner of Allegany State Park.
The Dance Halls of Allegany State Park
What was once the hub of several dance and cultural events is now an amphitheater on the park's Quaker side. A famous dance hall by the name of Redhouse Dance Pavilion hosted its last independence day dance in the year 1973. The building was later turned into a game room before finally being torn down in 1984.
Allegany State Park Today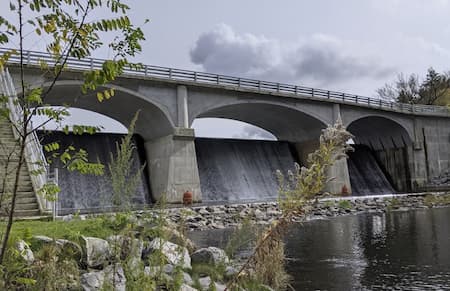 Visitors can enjoy a range of activities in the park. From a long vacation to a weekend getaway, the park is built to facilitate people in every way. A popular spot within the park, Thunder Rocks is an outcrop of huge boulders that are great for climbing, exploring, and taking photos.
For starters, there are more than 350 cabins and 400 campsites in the area. Then, there are fully equipped cottages for year-round stays and rentals in both Quaker and Red House regions.
However, nothing comes close to the famous seven Fancher cottages that provide visitors with an experience of a lifetime. Named after Albert Fancher, these cottages have everything you can ever think of. Allegany State Park hosts annual events such as the Allegany Adventure Run, the Allegany Nature Pilgrimage, and the Art Roscoe Loppet cross-country ski race.
From refrigerators and showers to microwaves and every possible cooking utensil, they have a complete range of items to allow you to stay for as long as you like. The cherry on top is the picnic tables and grills in each cottage. In comparison, the Pitt Cottages are equally equipped, but the only downside is that they're not handicapped accessible.
The park is home to several small caves, known as bear caves, formed by eroding rock. They provide a unique hiking and exploring experience. The park offers groomed cross-country skiing trails at the Art Roscoe Ski Area, featuring over 20 miles of trails suitable for beginners and experienced skiers. The park is an excellent location for bird watching, with over 200 species of birds, including the elusive Cerulean Warbler.
The Quaker Area
This area is no less than a paradise for campers. With its gorgeous lakes and sandy beach, it definitely takes the cake for being the better of the two areas. There are kayaking and canoeing access points, two fishing piers, and a number of environmental education programs offered throughout the year.
The Red House Area
This one is known for its bike and boat rentals, among various other facilities such as snowmobiling, swimming, and fishing. Visitors can enjoy several recreational opportunities every season. However, nothing tops the exciting cross-country skiing offered in winter.
How to Get to Allegany State Park
Before we dive into the subject, it's important to note that the park charges a $6 entry fee for vehicles between 9 am and 4:30 pm. You can reach the main entrance via Interstate Parkway, Pennsylvania, Bradford, and New York Interstate I-86.
Public transit also makes the process of reaching the State Park easier. While the bus and train can take anywhere from 10 to 12 hours, respectively, a car will take around 6 hours to get from New York to Allegany State Park.
Before You Travel
It's important to note that encountering wildlife is pretty common in this State Park. This means your trailer sites, cabin trails, and even picnic areas will have some form of wildlife walking around.
Hence, you want to make sure not to intentionally or unintentionally harass it. Do not attempt to feed any animals, and stay away from their territory.
Carrying firewood into the park is also discouraged because of a rare Emerald Ash Borer beetle infestation.
Wrapping Up!
Ultimately, it's safe to conclude that Allegany State Park is a State Park in the literal sense of the world. It is located far from civilization and has the perfect blend of wilderness and state-of-the-art facilities. Whether you're planning to camp, hike, or simply sit and rejoice, you'll have everything to facilitate your desires. Make sure to stay at a safe distance from the park's wildlife and avoid feeding it or going anywhere near it. It's as much of a haven for its animals as for its visitors.