The Allegheny Reservoir isn't just a body of water in Pennsylvania. It is a place that connects Pennsylvania to New York and serves as a vacation resort for families from all across the country. It offers a plethora of all the outdoor activities you can think of. Camping, fishing, bicycling, hiking, you name it.
Even if you aren't interested in indulging in these activities, you can sit by the water and savor the calmness and serenity of this amazing place. It will help you break free from the shackles of the urban hustle-bustle. In this blog post, we will uncover the historical and geographical aspects of this amazing place.
History of Allegheny Reservoir
The Allegheny Reservoir is a man-made lake. It is situated along the Kinzua River, which was built in 1965. The Flood Control Act 1936-38 recorded it as a flood control measure, and the US Congress authorized it.
The construction of this reservoir started in 1960 by the US Army Engineers Corps. Besides helping with flooding conditions, this reservoir offers drought control, hydroelectric power generation, and recreation.
The construction of this reservoir cost $108 million, and the Engineers Corps still looks after it. Its construction destroyed several hamlets, such as Red House, Quaker Bridge, and Cold, and also caused the dissolution of West Corydon and Kinzua.
The reason why this reservoir is so unique is that there is very little private development that surrounds it.
Geography of Allegheny River
In Pennsylvania, this reservoir is surrounded by the Allegheny National Forest, and in New York, the Seneca Nation's Allegany Reservation surrounds it. This reservoir is located 318 km above the river's mouth.
It falls within the McKean and Warren counties in Pennsylvania, and in New York, it falls within Cattaraugus County. It covers a total of 33.09 square miles and is 24 miles long. The undammed part of this reservoir also meets the city of Salamanca. Lastly, it is surrounded by a major portion of the Allegheny National Recreation Area.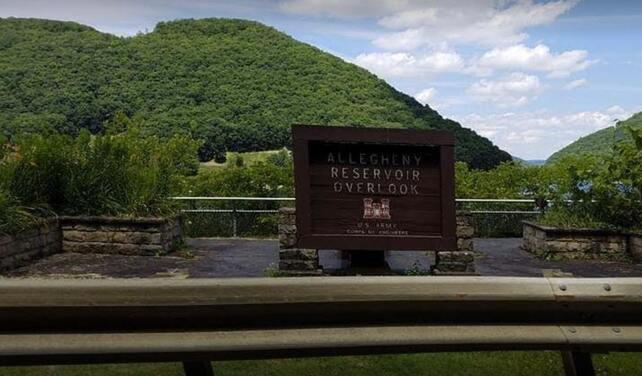 Fun Activities at the Allegheny Reservoir
Bicycling
The Allegheny Reservoir offers two famous bicycling trails. First, it has the Morrison Trail. This trail is 12.6 miles long. It leads you to the Morrison Campground. It is a boat access situated at Kinzua Bay.
Next up, it has the Jakes Rocks. The biking trail is located right before Jakes Rocks. It also overlooks another extreme biking trail. The most difficult biking sections on this trail are the Black Snake and the Ursus. Six of these sections are moderately challenging, while the remaining seven are easy for beginner cyclists.
Camping
The Allegheny reservoir is home to some amazing campgrounds. One of them is the Dewdrop Recreation Area. This is a large area with a 74-site camping ground. Here you can find water, a damp station, a boat launch, hot water showers, and a 2.5-mile trail.
Next, you have the Handsome Lake Boat Access Campground. This is a 20-site camping ground. You can access it by the North Country National Trail or by boat. Here you find fire rings, picnic tables, vault toilets, and water hand pumps.
Another campground on this reservoir is the Kiasutha Recreation Area. It is a 90-site camping ground with pressurized fountains and flush toilets. You also find parking spots, hot showers, paved roads, and a dump station.
Last on the list is the Morrison Boat Access Campground. This is a 38-site camping ground. It has a self-service station, fire rings, picnic tables, and vault toilets. You can get here by boat or by the Morrison Hiking Trail.
Fishing
Fishing is a popular activity in this area. Whether you are at the Webbs Ferry or the Elijah Run, you can find benches where you can sit and catch fish. At Willow Bay and Kiasutha, you can find boat launches with Courtesy Docks. However, at Roper Hollow, vehicles towing boats over 16 feet aren't recommended.
This area's most famous lake and pond species are Smallmouth Bass, Walleye, Northern Pike, Channel Catfish, Brown Trout, Muskellunge, and Yellow Perch. And, it doesn't end there. The Allegheny Reservoir also offers ice fishing. However, during the winter, motor vehicles aren't allowed in the area.
Water Activities
There are several water activities you can indulge in at the Allegheny Reservoir. Boating is a popular activity here. There is no horsepower limit for the boats. The summer pool covers a total of 12080 surface acres.
The average width of the pool is ⅜ of a mile. This summer pool is 29 miles, and it is 48 feet deep. It has a total of eight boat launches, including the marina. You can also indulge in non-motorized boating if you aren't a big fan of speed.
Swimming is also an activity at the reservoir. However, if you plan on swimming, you will do so at your own risk since there are no lifeguards available in this area. Other water activities include windsurfing, tubing, and water skiing.
Three different jurisdictions control water activities. Namely, the Commonwealth of Pennsylvania, the New York State, and the Seneca Nation of Indians.
Nature Viewing
As discussed above, if you don't indulge in any activities, you simply enjoy and appreciate the natural beauty of this place. The wildlife and the natural sceneries are a treat to watch. Here you can find birds, mammals, and amphibians.
However, there are a few rules to follow. First up, make sure not to feed the wildlife. Also, don't interfere with the mating and predation behaviors of the animals. Furthermore, make sure to keep a safe distance from the animals.
Here you will also find the Mountain Laurel, known as Pennsylvania's state flower. Some of the reservoir's most picturesque places are the Longhouse National Scenic Byway, the Kinzua Point Information Center, the Rim Rocks, and the Jakes Rocks.
Final Word
There is never a dull moment at the Allegheny reservoir. Whether you are an adrenaline junky, a lover of animals, or someone who appreciates nature's beauty, this place has you covered. To make the most of your trip, abide by the local rules and regulations. You won't regret your decision to visit this splendid place.