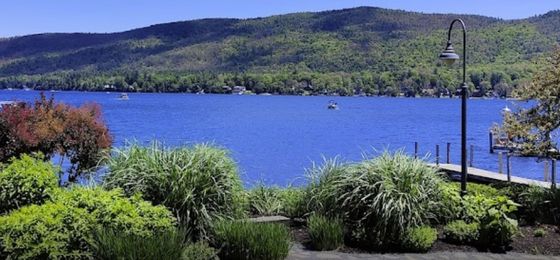 As the weather heats up and summer slowly approaches, Lake George becomes a desirable destination for visitors. They flock to the area to enjoy its many beaches.
Lake George is a popular tourist destination for a reason: the stunning views and opportunities for outdoor activities are hard to beat. But if you're looking for an excuse to visit Lake George Beach, here is why you should head there this summer!
A Brief Look at the History
George Beach is a beautiful sandy beach located on the shores of Lake George in upstate New York. The beach is situated within Adirondack Park, and the natural beauty surrounds it. The beach is in a stunning location, surrounded by tall trees and lush vegetation.
The history of Lake George Beach dates back to the early 1800s. The lake was a popular destination for people looking to escape the city's heat during the summertime. In 1824, an artificial dam was built across the lake, creating a large body of water perfect for swimming and other activities.
The beach became even more popular in the late 1800s when a boardwalk was constructed. The boardwalk allowed people to stroll along the beach and enjoy the beautiful scenery. It also provided a place for vendors to sell food and souvenirs.
The beach is open to the public from Memorial Day weekend through Labor Day. The beach is typically full of people enjoying the sun and water during the summer. If you're looking for a place to relax and enjoy the outdoors, Lake George Beach is the perfect spot.
Why is Lake George Beach Famous?
Lake George Beach is famous for its crystal-clear waters and stunning scenery. It's perfect for swimming, sunbathing, and relaxing on the sand.
Swimming
Lake George has always been a popular spot for swimming, and it's easy to see why. The water is clean and clear, making it perfect for a dip on a hot summer day. There are also plenty of lifeguards on duty to ensure everyone stays safe.
Sunbathing
Lake George is also a great place to sunbathe. The sand is soft, and the sun shines slightly brighter here. It's the perfect spot to relax and soak up some Vitamin D.
Relaxing
Finally, Lake George is simply a great place to relax. Whether you're reading a book, taking a nap, or enjoying the view, there's no better place to unwind. The peaceful atmosphere is sure to help you forget all your troubles.
The Flora and Fauna of Lake George
The Flora and Fauna of Lake George are diverse and include many different species of plants and animals. Wildlife at Lake George Beach is abundant and varied, with many species living in or near the water.
Fishes
The lake is home to several fish. The most common fish at Lake George Beach are sunfish, rock bass, and perch. There are also larger fish such as pickerel, pike, walleye, eels, and catfish. These fishes are generally present in weedy areas close to the shore. The fish in Lake George are usually healthy and safe to eat.
Birds
In addition to the fish, several birds make their homes in the area, including herons, ducks, and geese. In addition to the fish, several birds make their homes in the area, including herons, ducks, and geese. Each bird has different characteristics, like a heron's long legs or a duck's webbed feet, which help it survive in its diverse habitats. While the ducks and geese are near the shore, the herons wade in the shallows or stand in the water looking for fish.
Animals
The surrounding woods are home to many kinds of animals, including deer, squirrels, and raccoons. These animals have distinct features that allow them to live and thrive in their natural habitats. The deer have long legs that enable them to travel great distances and jump over obstacles. The squirrels have bushy tails that help them balance while they climb trees and find nuts and berries. The raccoons have mask-like markings on their faces that help them see in the dark and blend in with their surroundings.
Flowers
There are also many different types of flowers that grow around Lake George. Water lilies are one of the most common and have various colors, including white, pink, yellow, and blue. Lotus flowers also grow in the lake and have large, showy blooms. Cattails are another common plant and can be found growing in marshes. These plants provide food and shelter for many animals, including birds, rodents, and insects.
The lake is part of a larger ecosystem, including the surrounding woods and vegetation. This ecosystem is essential for the health of the animals that live in it and for the humans who use the area for recreation. The different parts of the ecosystem are interconnected, and each one depends on the others for survival.
The plants and animals that live in or near the lake play an essential role in keeping the ecosystem healthy. The plants help to purify the water, while the animals help to aerate it and keep it clean. In addition, plants and animals provide food and shelter for each other.
Activities at Lake George Beach
There's no shortage of things to do at Lake George Beach. In addition to swimming and sunbathing, visitors can go fishing, boating, and kayaking. There are also plenty of opportunities for hiking and picnicking in the nearby Adirondack Park. Let's see how we can do:
Fishing
The waters of Lake George are home to a variety of fish, including bass, trout, and pike. Anglers can fish from the shore or on a boat. A fishing license is required for anyone 16 years of age or older.
Boating
There are many marinas in the area where you can rent a boat or bring your own. Canoes, kayaks, and paddleboats are also available for rental. Personal watercraft are not allowed on the lake.
Hiking
There are numerous trails for hiking in Adirondack Park, some of which offer stunning views of Lake George. Picnic areas are located along many of the trails.
Other Activities
In addition to the above activities, visitors can go horseback riding, biking, and golfing. There are also several museums and historical sites to explore.
Wrapping Up
Lake George Beach is the perfect place to spend a summer day. With plenty of activities to keep you busy and beautiful scenery, it's hard not to have a great time. Whether you're looking to relax or stay active, Lake George Beach has something for everyone. So come on and enjoy all this beautiful destination has to offer!