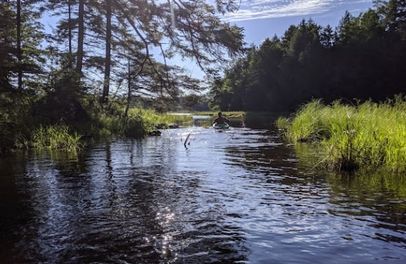 The beautiful Colgate Lake Wild Forest in East Jewett, New York, features the beautiful Colgate Lake, a well-admired spot for many recreational activities like kayaking, fishing, and primitive camping.
The 1500-acre lake is nestled in the Colgate Lake Wild Forest in the Catskill Forest Preserve.
Introduction
One yellow-marked trail in the Colgate Lake Wild Forest travels 4 miles to the Escarpment Trail and Dutcher North. Colgate Lake is another attractive spot offered by the Catskill region to cool off the summer heat. The lake is situated in the town of Jewett on County Route 78.
Colgate Lake offers its visitors access to public swimming and picnic activities. Visitors can also paddle in the lake if they bring their own boats. The Colgate Trail offers a fantastic 4.3-mile walk to the Dutcher North while passing through beaver meadows, stunning forested areas, and other beautiful fields.
Colgate Lake Wild Forest
The Wild Forest is open year-round for recreation without any fee. Windham Blackhead Range Wilderness borders the forest on its three sides, so it can be hard to locate and find this hidden gem for first-time visitors. The Colgate Lake Wild Forest has several recreational activities at the visitor's disposal, like:
1. Hiking
The Colgate Lake Wild Forest presents its scenic open environment for plenty of hiking and motorless recreation activities.
2. Camping
There are six primitive campsites designated in the Colgate Lake Wild Forest, which include accessible fire pits and pit privy.
Primitive camping is only allowed if the campsites are at a 150 feet distance away from the nearest trail, road, or water body. A Forest Ranger permit is required if you or your group of more than ten campers intend to stay for three or more nights.
3. Wildlife
Catskill offers a wide range of wildlife, so Colgate Lake Wild Forest allows hunting or trapping only during appropriate seasons. The most famous game species in the Colgate Lake Wild Forest are bobcats, coyotes, deer, bears, beavers, etc.
How Do You Get to Colgate Lake
From Tannersville, head west onto Main Street towards Church St, then turn right onto County Route 23C, also known as Hill Street. Continue to follow this road and then turn right onto County Route 78, which will take you to Colgate Lake, NY.
Colgate Lake Animal Species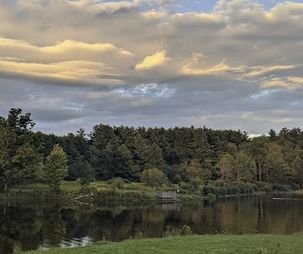 Anglers love to visit Colgate Lake year-round for decent catches of trout. The lake is stocked annually with brown trout ranging from 8 to 15 inches in length, and several fishing platforms provide access to fishing activities.
You can find plentiful wildlife in Catskill, including large mammals like a bear, bobcats, and deer and smaller mammals like a porcupine. You can also come across several birds species and multiple fish species present in Colgate Lake:
1. Brown Trout
Brown trout is favored as a game fish in Europe and is recognized by the light-ringed black spots present on its brown body. Brown trout thrives in warmer waters compared to other trout, and the average brown trout grows up to 20 pounds.
The brown trout are highly adaptable in changing their habitat from seawater to freshwater, which is why catching and releasing brown trout is an essential strategy to ensure their continued existence and self-sustaining population.
2. Pumpkinseed
Pumpkinseed sunfish are found in several North American water bodies. These colorful fishes are called punkys, pond perch, and sun perch. Pumpkinseed gets its unique name because its bodies resemble the seed of a pumpkin. They have colorful bodies with a dark olive green on their back and mottled sides. The belly of this fish is bright orange to yellow.
The pumpkinseed fish thrives in warm lakes and ponds and live near the shore in protective vegetative areas.
3. Brook Trout
Brook Trout, which is also known as speckled trout, is a fish with stunning yellow spots over its back. The back of the fish is olive green in color and has worm-like spots.
The sides of a brook trout can range in colors from orange and olive to red and have scattered spots that are red and bordered by pale blue.
Brook trout are found in clean and cool water in the Northeastern part of the US. During the daytime, brook trout can retreat to deeper water to avoid the heat.
Brook trout populations can be put at risk due to floods or droughts, and they are often threatened by other fish stocked in ponds that are more aggressive than brook trout.
The Colgate Lake Experience
The Colgate Lake Wild Forest can be difficult to find due to its relatively hidden location. The New York Department of Environmental Conservation (DEC) has announced some regulations which are implied to improve the safety of the public and the wild forest and other areas they visit.
The same regulations are also applied to Colgate Lake Wild Forest, where it is prohibited to carry portable generators anywhere except designated campsites. Campfires and portable stoves are also not allowed except at camping sites. Carrying glass containers that do not contain medicine is banned, and alcohol consumption is not permitted anywhere except the designated campsites.
The public is also discouraged from entering any restricted areas. Dogs are allowed at Colgate Lake but must be kept on a leash. Even though Colgate Lake offers a scenic environment and plenty of exciting activities for adults, it has no developed facilities except for parking areas and a fishing platform.
The seclusion and remote location of Colgate Lake make you feel like you're on a mini vacation, as the site is more suitable for experienced campers rather than families with young kids.
Conclusion
Colgate Lake is a quiet location that can be often crowded as people love to swim and fish in the calm waters. If you want a weekend getaway to a place where you can relax and unwind, surrounded by nothing but nature around you, Colgate Lake is the best vacation spot you can treat yourself with.