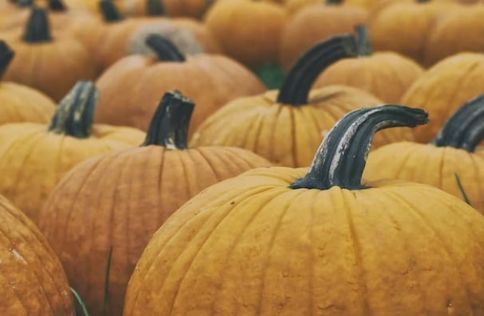 New York state is home to several beautiful farms, many of which offer a pumpkin patch experience during October. With so many choices, finding the perfect patch to spend your time in can take time and effort. So, which are the best pumpkin patches in New York state?
The best pumpkin patches in New York state are Pumpkinville, Abbott Farms, and Harvest Moon Farm & Orchard. Each farm has a large pumpkin patch and many other fun fall activities. In addition, these farms offer many pumpkins, pumpkin products, and fall pumpkin photo opportunities.
In the rest of this article, I'll discuss the best pumpkin patches New York state offers and the other fun activities you can find at these patches. So, if you want to learn more about what patches to visit during the fall, read on.
One of the best pumpkin patches to visit if you find yourself in New York state during the fall is Pumpkinville. This beautiful pumpkin patch is located along a scenic drive in Great Valley and is truly a sight to behold with all the spectacular fall foliage. Pumpkinville runs from September through October.
They are best known for their stunning 5-acre (2.02 hectares) pumpkin and gourd patches. You can walk through endless rows of pumpkin varieties and even pick one to take home for carving. These patches are also perfect for snagging an iconic fall photo of yourself or a loved one.
This patch provides stunning pumpkins and offers several fun family activities and refreshments. Many of the events are geared toward children, and some of the most popular pumpkin patch activities include:
A pumpkin race
A talking pumpkin
Farm animals
Spooky barn
While exploring, you can sip some freshly squeezed apple cider and sample Pumpkinville's famous pumpkin donuts. Along with great food, there are also fun activities for adults, like a beer garden that runs on the weekends. Ultimately, this is an excellent stop if you're looking for a patch the whole family will enjoy.
2. Abbott Farms
Next is Abbott Farms. This beautiful farm has so much to offer in terms of experience. They have an excellent pumpkin patch, or rather a pumpkin structure. They have erected a house-like frame on the farm and filled it with pumpkins. You can buy the pumpkins and take photos. This farm is excellent for adults and children, as there are activities geared toward both.
Abbott Farms is also home to a sizable apple orchard where you can pay to pick your own apples or enjoy fresh cider. There is also a tiny farm souvenir store where you can browse their interesting merchandise. It's also a farm, so there are plenty of adorable animals to watch and occasionally pet.
While on the farm, you should also check out the small fish pond, where they keep some stunning goldfish. This fun pumpkin patch is also an event center, so you can plan a wedding on the premises, which is a fun option if you like pumpkins and apples.
Another great pumpkin patch stop is Harvest Moon Farm & Orchard. This farm is excellent because it's pretty large and beautiful, especially during the fall when all the foliage has turned. The farm has a beautiful small pumpkin patch with different varieties, sizes, and colors of pumpkins. There are also some photo opportunities near the patch with fun farm backgrounds.
As well as being a pumpkin patch, Harvest Moon is also a functional farm. This farm has a market where you can purchase freshly grown produce and even participate in specialized classes like a nature workshop for kids. There is also a great restaurant located on the property, which serves delicious dishes using the farm's fresh ingredients.
Some more fall fun you can participate in includes apple picking straight from the farm's orchard. You can also book an event on the large farm as they are set up to host weddings and other large celebrations.
Next is Schmitt Family Farm, located in Melville. This farm is known for its fantastic fall festival and stunning pumpkin patch. This farm has an extensive pumpkin patch for children to enjoy and pick out their carving pumpkins, and the patch is the perfect photo opportunity spot and will leave you with memorable photos.
Along with all the pumpkin festivities, you can interact with the farm animals, enjoy a pony ride, and feed the animals. You can also ride through the farm on a tractor and pick some freshly-grown produce. The farm also serves freshly picked and roasted corn, a fan favorite, that you must try during your visit.
This patch is perfect for families as there is so much for children to do. They can explore the pumpkin field for the best pumpkin, play in a playhouse surrounded by bales of hay, and interact with some fantastic farm animals.
Outhouse Orchards is a great stop if you want some fall fun and a pumpkin patch. This farm has a large field where you can admire the many pumpkins and gourds, and you can walk through the selection and pick out your very own. Staff members are standing by to help you take the heavy pumpkin to check out.
You can lose yourself in the orchard's massive corn maze and a stellar pumpkin patch. This maze is quite extensive and even comes with a fun map you can follow to find information about monsters and farming, which solve the maze puzzle. The maze is great fun for the whole family and worth visiting while at the pumpkin patch.
If pumpkins and mazes aren't enough for you, Outhouse Orchards also offers a traditional hay ride where you can tour the farm. After your hay ride, you can also pay to pick your apples, of which Outhouse has a massive selection.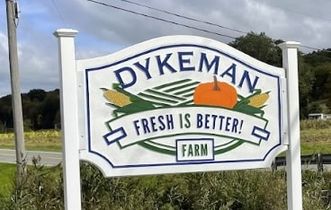 Another excellent pumpkin patch stop is Dykeman Farm. This farm's pumpkin patch features over 70 varieties of pumpkins to choose from and has been in operation since 1974. Dykeman's is known for their fair pricing and great quality produce. You can visit the farm's pumpkin patch on weekends during October.
Because of the wide variety of pumpkins in the patch, it's perfect for a fun fall photo, and the kids will love picking out a unique pumpkin for Halloween. Another great thing about Dykeman Farm is that they offer free parking and hayrides once you pay for general admission.
Dykman is a family-owned farm and has been family run for over 4 generations. Along with the fun pumpkin picking and hayrides, the farm offers a beautiful farm stand where you can purchase fresh produce. The sweet corn at the market is incredibly delicious since it's picked fresh daily.
The Cunningham Family Farm is located in Swan Lake, New York. This beautiful farm runs over 80 acres (32.37 hectares) and is family owned and operated. The festivities at this pumpkin patch are grand for visitors of all ages, and the pumpkin patch is full of bright orange pumpkins you can select to take home.
The farm also offers a fun corn maze that extends over 4 acres (1.62 hectares). The maze's goal is to present a tremendous challenge for those who enjoy puzzles. You can also hop on a cozy hayride in between activities, where you can listen to some fun ghost stories and learn about the farm itself. While visiting, you are also subjected to the property's stunning fall foliage.
There are also plenty of stunning photo opportunities during your visit, from fall leaves to pumpkin patches and grassy fields. The farm also has some interesting hay bale art you can check out and a minor pumpkin patch for smaller kids to pick out a pumpkin they can easily carry.
Another pumpkin patch is Meadville Farm, located in Seneca County. This patch has a lot more to offer than just pumpkins. The patch here is quite beautiful and even offers activities for children, such as pumpkin painting. In addition, the farm has some truly photo-worthy sights, such as an old red barn that overlooks the property.
This farm is well known for glamping which basically a glorious type of camping or as we call it "sleeping slightly outdoors". With its glamping package, this pumpkin patch/farm also offers an overnight experience if you're looking for a short fall getaway. You have the opportunity to stay in an old cabin on the property to enjoy the peacefulness of nature. However, if glamping isn't your style, you can certainly stick to the pumpkin patch activities.
There are also many fun farm animals for you to enjoy, like goats. This patch is more geared toward kids, but there is still fun to be had for adults. The farm also has a small produce stall where you can buy fresh fruits, vegetables, and eggs.
Golden Harvest Farms is a fantastic option if you're looking for an exciting whole fall farm experience. This farm was established in the 1950s and has grown to what it is now. The farm runs for over 220 acres (89 hectares), and it offers a wide variety of activities such as:
A pumpkin patch
Apple orchids
Bakery
Road stand
Cider mill
As you can see, there is a wide variety of activities to choose from. It's also important to note that the pumpkin patch isn't in a traditional field. Instead, you can find a vast assortment of pumpkins arranged in piles on pallets near bushels of vibrant red apples. Unfortunately, this farm doesn't offer a "pick your own apples" service, but you can still purchase them.
Stakey's is a must-stop destination if you're looking for a good pumpkin patch in New York state. This patch is fantastic because it's located in Northville and has been operating since 1976. This pumpkin patch is geared toward the family and offers loads of fun for all ages.
Stakey's pumpkin farm has attractions like:
A pumpkin patch
Hay rides
Flower house
Corn maze
Country store
There is plenty of fun to be had on this farm. The corn maze runs for 3 acres (1.21 hectares) and is quite complex since it comes with a map to solve the puzzle of how to get out. The hayride offers a tour of the 26-acre (10.52 hectares) property, which is perfect for a quick rest during your exploration, and there is also a face painting station that the kids will love.
If you're looking for a fun free pumpkin patch to attend, Gov­er­nors Island puts one on every year. This patch/fall festival runs through most of October at Nolans Park, and the pumpkins are limited to one per household to ensure there is plenty for others.
It's also important to note that the patch is first come, first serve and can get crowded. It's, therefore, best to get an early start so you can get a seat on the ferry to the island. Along with pumpkin picking, the festival offers a variety of other activities for the whole family.
The other fun fall activities include:
Pumpkin painting
Magic shows
Dance classes
Plays
Puppet shows
Trick or Treating (for Halloween)
Each day has a different Itenary which you can check on the island's website. So if you want some fun that is more budget-friendly, this pumpkin patch is the perfect option.
Another seasonal treat is Hank's Pumpkintown. This beautiful farm is home to a pumpkin patch, corn maze, market, and park, and there is no shortage of entertainment to be found when visiting the farm.
As for pumpkin picking, you can choose from several varieties and sizes ranging from mini to prize-winning. Additionally, you can pick your very own pumpkin straight from the vine. Along with traditional pumpkins, the farm has several gourds and other fall decorations you can purchase.
Some other activities Hank's has to offer include:
Apple picking
Wagon rides
Train rides
Giant slides
Hank's also has delicious treats and beverages available for purchase. You can take your pick of candied apples, fresh pies, cider, and freshly cooked corn on the cob. So be sure to grab a tasty snack while enjoying the farm and its fun pumpkin patch.
Happy Day Farms has one of the most diverse and spectacular pumpkin selections. This patch is unique because of the house-shaped structure on the property, which is completely covered in pumpkins.
When visiting this delightful farm, you can pick a pumpkin and then take a unique photo in the
Pumpkin House.
In addition to the pumpkin picking, there is also a fun corn maze to explore with the family. There are also a variety of fun activities to participate in at the pumpkin patch. These include:
An animal feeding zoo
Pig races
Tractor rides
Pumpkin bowling
These are just a few of the farm's activities during the fall. However, be sure to check their itinerary before visiting, as there are many fun activities you may want to attend that weren't mentioned above.
Another great stop if you want to pick out a beautiful pumpkin from a patch is Elwood Pumpkin and Christmas Tree Farm, located on Long Island. This farm is dedicated to producing stunning pumpkins and Christmas trees during the Holidays. However, today I will mostly be discussing their pumpkin patch.
Something fun and relatively unique about Elwood is that their pumpkins are grown straight in the pumpkin patch. This means you get to pluck your very own pumpkin straight from the vine. Due to the freshness, these pumpkins are perfect for cooking with or carving a Halloween Jack O'Lantern.
Along with picking fresh pumpkins, you can opt for a wagon ride around the farm or explore the small corn maze, which is geared toward children. This little excursion will make for a fun family, after which you can make some delicious pumpkin pies.
This farm offers a fun pumpkin patch during the fall but is open annually to visitors, and there are many animals to enjoy, plus fun decorations. You can choose your very own pumpkin to take home and carve. Also, seasonally, you can pick sunflowers on the farm.
Other fun things to do at Old Mcdonald's include:
Hayrides.
Bounce house.
Barnyard basketball.
Mini golf.
Pig racing.
Tours of the dairy.
As you can see, there are many activities to choose from, and this list only showcases a few. This pumpkin patch is excellent for those who love animals and want to see how a real farm is run.
Last but not least is Fishkill Farms, which is located in Hopewell Junction. This farm and pumpkin patch is perfect for those wanting a classy farm expense. Along with pumpkins, the farm has a market where fresh produce is purchasable on weekends.
The pumpkins at Fishkill are unique, and there are so many strange shapes and colors to choose from. Fishkill is a fully operational farm, so there are also a ton of farm things to see, like orchards, animals, and fields of crops. You can tour this farm and even pick your own produce during some parts of the year.
The property is also home to a delicious restaurant and offers cider-tasting year-round. Another major draw to the farm is apple picking. However, reserving these activities require reservations as space is limited. That being said, the food is definitely worth the visit, as are the fantastic pumpkins.