You can't go to Long Island and not visit Americana Manhasset. This place is a shoppers' paradise, with all the high-end stores you could want. And even if you're not into shopping, it's still worth visiting for the architecture and atmosphere.
There's no mistaking Americana Manhasset for anywhere else. The moment you step into the plaza, you're greeted by beautiful fountains and pristine landscaping. This is a place where people take pride in their appearance. In this blog post, we'll look at everything that makes Americana Manhasset so special.
Location of the Plaza
Americana Manhasset is located in the heart of Long Island's Gold Coast, known for its wealthy residents and luxury lifestyle. The area is home to some of the most expensive real estate in the country, and the americana Manhasset is right in the middle of it all. It's easily accessible by car or public transportation, making it a great destination for a day trip.
Even if you're not from the area, it's worth a visit if you're ever in New York. There's plenty to see and do, and you'll enjoy your time at Americana Manhasset. If you're looking for a taste of the high life, this is the place for you.
Stores at American Manhasset
When it comes to shopping, Americana Manhasset should be your go-to place. The place is home to over 60 high-end stores, including Gucci, Louis Vuitton, Tiffany & Co., and Hermes. If you're looking for a luxurious shopping experience, this is the place to be.
What sets Americana Manhasset apart from other shopping destinations is its commitment to customer service. The staff is incredibly friendly and helpful, and they're always happy to assist you with anything you need. You'll never feel like just another customer here – you'll always feel like a VIP.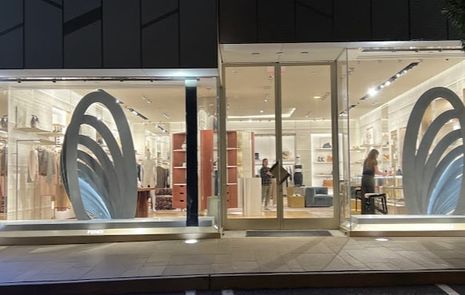 Here's a list of a few top-notch stores that you'll look for. Let's discuss each:
Gucci: You can find the latest fashion trends here. The store also offers a great variety of handbags, shoes, and accessories. You're sure to find something you love here.
Louis Vuitton: This is the perfect place to buy designer luggage and travel accessories. You'll find a wide selection of high-quality items here.
Tiffany & Co.: If you're looking for the perfect piece of jewelry, this is the place to go. Tiffany & Co. offers a wide selection of engagement rings, necklaces, earrings, and more.
Hermes: Hermes is known for its exquisite luxury goods, including handbags, watches, and accessories.
Restaurants at Manhasset Plaza
In addition to the stores, the place also has a few restaurants. If you get hungry while shopping, you can stop for a bite to eat. There are also a few cafes if you want to grab a coffee or a quick snack. The restaurants at Manhasset Plaza include:
The Cheesecake Factory: This American chain is known for its huge portions and delicious cheesecakes. If you're looking for a hearty meal, this is the place to go.
Chipotle: Chipotle is a Mexican-style fast food restaurant. They serve burritos, tacos, and other Mexican-inspired dishes.
Shake Shack: Shake Shack is a popular burger chain. They're known for their fresh burgers and shakes.
Starbucks: Starbucks is the world's largest coffee chain. You can get coffee, tea, pastries, and more at this cafe.
There are also other restaurants at Americana Manhasset, including Panera Bread, P.F. Chang's, and The Capital Grille. All of these restaurants are located near the stores, so you can easily grab a bite to eat while you're shopping.
Soothing Atmosphere
Now, the best part, let's talk about the atmosphere. Americana Manhasset is an incredibly peaceful and relaxing place. It's the perfect place to escape the hustle and bustle of New York City. Even if you're not interested in shopping, it's worth a visit to take in the atmosphere. The grounds are meticulously landscaped, and the buildings are beautiful. It's a great place to people watch or enjoy the peace.
Americana Manhasset is the perfect place to find some peace and tranquility. The beautiful grounds are perfect for a relaxing stroll, and the exquisite architecture of the buildings is sure to impress. If you're looking to escape the hustle and bustle of New York City, Americana Manhasset is the perfect place for you.
Tips for Getting Most Out of Your Shopping Experience
There are a few tips that can help you to make your shopping experience even better at Americana Manhasset:
Make a List Before You Go
Americana Manhasset is a huge shopping center with over 60 stores. It can be easy to get overwhelmed and buy things you don't need. To avoid this, list the specific items you need or want before you go. This will help you stay focused and only buy what you came for.
Bring a Friend
Shopping is always more fun with a friend. Not only will you have someone to talk to, but they can also give you honest feedback on what looks good on you. Plus, if you're planning on making big purchases, it's always good to have a second opinion.
Take Advantage of the Personal Shoppers
Americana Manhasset has a team of personal shoppers who help you find the perfect items. They know the stores and the products inside and out, so they can save you a lot of time and hassle. Plus, they offer their services for free. All you have to do is make an appointment.
Check the Sales and Promotions
Americana Manhasset is always running sales and promotions, so check what's happening before you go. You can often find great deals on designer clothing and accessories.
Join the Loyalty Program
If you shop at Americana Manhasset often, you should join their loyalty program. You'll earn points every time you purchase, which can be redeemed for exclusive discounts and rewards. Plus, you'll get access to exclusive sales and events.
There are just a few things you should keep in mind when shopping at Americana Manhasset to make the most of your experience. By following these tips, you'll be sure to find exactly what you're looking for – and maybe even some great deals.
Wrapping Up
If you're looking for a great place to shop, dine, and relax, the americana Manhasset is the perfect destination. With its convenient location, a wide variety of stores, and tranquil atmosphere, it's no wonder this place is so popular.