The Big Apple may be mainly known as the city that never sleeps– towering skyscrapers, electric energy, and bright lights. But another thing that can't be denied about NYC in particular and the rest of New York State is the vibrant food culture, with restaurants that have people from all over the world going for broke just to have the ultimate foodie experience.
Some of the best restaurants in New York State are Eleven Madison Park, Le Bernardin, and Masa, all top-tier restaurants with three-star Michelin ratings. These restaurants are located in New York City and are known not only for innovative dishes but also for their sophisticated interior design.
If you're up for a foodie tour of New York State, you won't be disappointed. New York has plenty of Michelin-star restaurants as well as lesser-known yet amazing restaurants that will surely satisfy your cravings–whether that be for European, Asian, or Mediterranean cuisine. We've rounded up 13 of the best restaurants in New York that you absolutely must try.
1. Eleven Madison Park
Kicking off this list is the stylish Manhattan restaurant Eleven Madison Park with Chef Daniel Humm. The restaurant is a treat not only because of the sophisticated yet simple offerings of Chef Humm's take on French cuisine but also because the restaurant's Art Deco interior and its view of beautiful Madison Square Park make for an exquisite dining experience.
Every visit to this foodie destination is unique every time, what with Chef Humm's passion for creating dishes out of seasonal flavors. You can also try the restaurant's bar area if you want to share a few drinks with friends. I have been here about five times, each time I swear it was a completely different experience. My wife has been there 3 times. Each subsequent time she visited, she says it reminds her of One Madison Park, which is a building, not a restaurant.
Eleven Madison Park also made headlines in 2021 when they decided to go vegan–and they did not stop there. The restaurant is the first vegan establishment to gain a three-star Michelin rating. So if you're looking for an excellent place to satisfy your plant-based cravings, Eleven Madison Park should be at the top of your list!
2. Dhamaka
Calling out to all Indian food lovers, this popular Indian joint is in town! Dhamaka in New York City is proud and unapologetic about their Indian culture and passion for taking chances. In fact, the bright and cheery design of their restaurant reflects the owners Roni Mazumdar and Chef Chintain Pandya's approach towards creating new dishes: They're not afraid of taking risks.
And so far, everyone seems to have nothing but love for everything they've served their customers. If you can only try a few things from their menu, definitely sample their chutney-kissed seafood, tandoori meats, and masala stews.
And did we mention that this new restaurant has a one-star Michelin rating? Yep, it hasn't been around very long–they opened in 2021–but they sure have made a mark in New York's competitive restaurant scene.
3. Masa
Let's now take a trip to Southeast Asia with Masa, a three-Michelin-star Japanese restaurant in NYC. If you love Japanese food, you must know that Japanese food takes a certain solemn flair unlike anything you experience with any other cuisine. And Masa definitely has that. 
Every dish is done with an elegant almost-ceremony–from sophisticated presentations to the delicate taste of each dish, so that every time you come in for a meal, you feel as if you are able to regain the respect for food that many of us have lost what so much fast food and instant meals that are popular everywhere.
Masa prides themselves in their attention to detail, which is apparent in the thoughtful design of the restaurant's interior down to the cutlery. Oh, and have we mentioned that they have the best sushi in this part of the globe?
Also, a meal at Masa can set you back quite a bit, so if you have a limited budget, do go for their sushi. You can't go wrong with it.
4. La Bernardin
For those who want something tried and tested, Le Bernardin, a popular restaurant featuring European and East Asian seafood cuisine in NYC is a safe–and good–choice. It was awarded a triple Michelin-star rating in 1986 and has maintained this recognition ever since. What a feat!
But when you do take the time to sit at the restaurant for lunch or dinner, any doubts you may have as to why this restaurant has been so highly regarded will surely evaporate. One of their classic dishes is the much-loved raw tuna on foie gras–a must-try if you're dining here for the first time.
Another thing that people love about dining in La Bernardin is its large collection of paintings that are displayed all over the restaurant's walls. For the discerning eye, these art pieces can be as much a treat as the food being served.
If you've been to Paris, this restaurant's name may also be familiar to you. It actually started as a small resto in Paris in 1972 and was originally called Les Moines de St. Bernardin, named such after an order of monks that's known for their love of fine wine and good food.
5. Teranga
Let's now take a break from all the fine dining and go to Teranga, a casual restaurant in New York City. This place proudly and deliciously features African culture and cuisine, complete with African-grown ingredients and dishes that are intertwined with Africa's history and colonization. 
Everything about Teranga is thoughtful and playful at the same time–from the takeaways, customizable dishes, and its bright and open interior. It's a place where people can enjoy a casual meal while feeling being armchair travelers back to centuries of African roots.
The restaurant is a refreshing take on the rich, flavorful, and hearty African cuisine right at the heart of the Big Apple.
The name "Teranga" means "Good hospitality" in Senegalese, and it sure does show in the way the staff invites people to get to know African culinary traditions–in an interesting, gastronomically satisfying way. You can even ask the staff about the dishes or the ingredients that they're made of if you want to know more about African history and culture.
6. Per Se
We're not done with fining dining just yet, and for a good reason. Another three-Michelin-star restaurant in the Big Apple is Per Se, a contemporary French restaurant that offers not just a good meal but an entire gastronomic experience. And that experience you get to enjoy with a pretty view of Central Park.
And you can't miss this fancy restaurant. It has a signature blue door that is the same as its contemporary restaurant in Napa Valley, The French Laundry. And if you ask around, chances are people will tell you it's one of the best fine dining restaurants in New York, so much so that it has become an institution–and a dream destination for those who haven't been!
Don't be surprised to find nine varieties of salt at Per Se or other fancy flourishes typical to this restaurant that say elegance and attention to detail at every turn. Every menu is so well-curated to guarantee a fabulous dining experience.
If you have to try one thing at Per Se, though, make sure to sample Chef Thomas Keller's iconic oysters and pearls made with Island Creek oysters.
7. Daniel
Another institution in fine dining in New York is Daniel, a two-Michelin-star restaurant featuring seasonal European cuisine at its finest. It's known to many as one of the most elegant white tablecloth restaurants in New York, with staff that are so well-trained and in tune with their guests and the overall ambiance of the place.
Here, you can have a four-course meal at the grand dining room or have a private room for a more intimate dining experience, and definitely try Chef Daniel Boulud's most famous dishes, like the Sea Scallops in Black Tie.
But since its opening in 1993, Daniel has become a place where the elite go to mingle, which is why many do enjoy getting a table at the grand dining room. Just make sure that you're dressed right for the place–and that means formal wear: jackets and ties for the gentlemen and formal dresses for the ladies.
8. Buvette
Itching to go to Paris but can't just yet? Why not drop by New York restaurant Buvette instead? It does have that old Paris vibe–charming, open, and casual. You can literally spend hours here and not feel out of place because it's a three-in-one gastrotheque, that's a restaurant, bar, and cafe all at once. Amazing, isn't it?
But do not mistake our mention of casual to mean simple or ordinary. Buvette does have a subtle elegance about it that's typical of the cafes that line Parisian streets. It's effortlessly charming and stylish–like a girl who's pretty without trying. You know what I mean?
In true tourist-in-Paris fashion, you hop in for brunch and try their omelet and waffle sandwiches paired with cafe au lait. And for later, you can make your pick from their amazing wine collection and have a few drinks with friends.
9. Chef's Table at Brooklyn Fare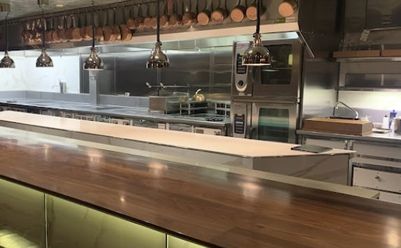 If you're looking to experience serious culinary skills, you have got to try Chef Cesar Ramirez's sophisticated and perfectly formed dishes that are a mix of Japanese and French cuisine. Chef Ramirez's style is certainly unique–there is a very precise meticulousness to every dish that he serves at three-Michelin-star Chef's Table at Brooklyn Fare.
Some people would call his style minimalistic, while others subtractive. There is no excessive flair to any of his dishes, and he allows the natural flavor of his main ingredients to shine through. Whether you're filling up with a Wagyu beef or a Langoustine tempura, you'll enjoy the exactness of the elegant presentation as well as the essence of the food.
In fact, many say that Chef Ramirez's food is arguably the best in New York. There is none of that high-end pretentiousness that turns off a lot of people–only a purely amazing foodie experience! And it's not just Chef Ramirez or his creations that are to thank for this, either. The staff are top-notch and provide world-class service.
But, of course, we can't talk about Chef's Table at Brooklyn Fare without mentioning the unique experience of getting there: You have to go through Hudsons Yard market to get to the restaurant's entrance, which makes coming to dine here feel going to a secret club that only a few special people know about. As you will find out for yourself if you do visit, nothing seems to be ordinary at Chef's Table at Brooklyn Fare.
10. Jean-Georges
If part of your foodie bucket list is to dine at a rockstar chef's restaurant, then you have to try Jean-Georges, named after superstar chef Jean-Georges Vongerichten. This richly accoladed chef has award after award under his belt for his self-named restaurant, including four stars by the New York Times, two Michelin stars, and a spot in Les Grandes Tables du Monde..
Jean-Georges in New York is only one of a mind-blowing 60 restaurants that Chef Jean-Georges owns all over the world. And his restaurant in New York has always been a go-to for fine dining, superior French cuisine, and a discreet, subtle elegance that is so hard to find in restaurants nowadays.
And if you're fond of seasonal flavors, you'll love it here because the courses change depending on what's in season, and the ingredients that the restaurant uses in its dishes are sourced fresh off the farmer's market.
Surely, it's not just the food that you'll enjoy here, either, because the restaurant offers fantastic views of Columbus Circle. Imagine a leisurely lunch with a special someone or a close friend and enjoying a happy chat over your meal while looking through the restaurant's big windows–lovely!
11. Cote Korean Steakhouse
Had enough of European cuisine just yet? Let's move on to another Southeastern treat: Cote Korean Steakhouse right at the heart of New York's Koreatown. If you do find yourself in this patch of NY, you won't miss Cote. It's by far the busiest restaurant in the area, no wonder why. The food here is cheap and oh-so-good. 
Think spicy kimchi stew, ban-chan, egg souffle, and–you should not miss this: Korean barbecue! If you love Korean food, you'll definitely keep coming back to the authentic flavors that Korean cuisine is known for: savory, flavorful, rich, and spicy.
Not sure what to order just yet, it's usually recommended that you get the Butcher's Feast, which gives you all the good Korean staples, including Korean barbecue. If you're familiar with Korean food and know exactly what you want, though, you can always go through the a la carte options.
After a hearty meal, do enjoy a glass of wine (or two, who's counting anyway?). Cote has an amazing wine list to go with those steaks.
12. The Modern
Chic, elegant, and refined, The Modern is a two-Michelin-star restaurant that is located at the ground floor of the Museum of Modern Art or MoMa. With Chef Thomas Allan on board, the Modern features contemporary French-American cuisine with seasonal menus and has always been a popular dining spot for both tourists and locals.
The Modern's location is something that makes it remarkable, though, as nothing beats a view of MoMa gardens. The acoustics of the main dining area are perfect for intimate conversations, so there is a feel of quiet elegance inside, even though you do feel the electric vibe of the place, with people that just can't get enough of the dining experience.
Perhaps what doesn't get mentioned as often but does need to be highlighted about Chef Allan's dishes is the playfulness of his creations, so that the menus are carefully thought-out while being rich with the exciting surprises.
And if you're planning to celebrate a special occasion here, do try to get a chef's table in their state-of-the-art kitchen. Your meal will be served like a performance, which will surely elevate your fine dining experience.
13. Momofuku Ko
Momofuku Ko is one of the most popular omakase-style restaurants in New York that is a must-try place if you're craving Japanese noodles–with a twist. What's interesting about this two-Michelin-starred restaurant is that the menu changes pretty often. 
And while other restaurants change menus by the season, Momofuku Ko sometimes changes menus every day. They are very particular with ingredients, too, and it's not uncommon for them to fly ingredients in from other parts of the country or from Japan for the day's manu. Bee pollen from Connecticut? Green tea matcha from Japan? No problem.
Not only that, they are pretty inventive with their dishes, and their wide range of drinks, from sake to soju to different kinds of wines, makes for a truly amazing dining experience.
So perhaps one of the biggest charms of Momofuku Ko is you can keep coming and still get excited because you can never really predict what's going to be on the menu. Plus, the fact that they go through great lengths to get the ingredients that they want speaks a lot about what kind of service they want to keep giving their diners.
And we're all for that!