The craft beer revolution continues in full swing, luring beer enthusiasts with fragrant aromas and savory flavors. New York residents love craft beer: the state has the third-highest number of craft breweries in the United States, lagging slightly behind Pennsylvania and a long way behind California.
I have to preface this review by saying that I am only discussing breweries that have a retail customer service menu. There are a ton of great places across the State where you cannot sit down with friends and enjoy their delightful concoctions. We are working on a full review of all those great pints too.
The best breweries in New York state include District 96 Beer Factory, Fidens Brewing Company, Hudson Valley Brewery, and Mortalis Brewing Company. You can also find high-quality craft beer at Pantomime Mixtures, Community Beer Works, Big aLICe Brewing Company, and Sloop Brewing Company.
Read on to discover more about the best places to enjoy refreshing craft beer in New York.
District 96 offered food before the owners diversified, introducing craft beer to the menu. They named the outlet 'District 96' after the location's voting district in Rockland County.
The brewery has two staple beers: Silent Majority, a pale ale, and Americansh, a Kolsch. Its other offerings change as the brewers explore different flavors.
A standout feature of District 96 beers is their names – the owners name the drinks after political themes. The monikers come from all sides of the political sphere to promote an inclusive environment.
District 96 is in New City, only 18 miles from New York City, making the bright and airy brew pub a convenient destination for Big Apple dwellers looking to enjoy premium craft beer beyond the city lines.
Fidens Brewing Company was created by three friends – Steve, Tim, and Michael – with a passion for craft beer. Steve, the head brewer, started brewing in his garage for fun. The friends traveled to breweries around the United States for beer to craft and drink during garage brew days.
Tim and Michael noted they enjoyed Steve's beer more than they did offerings from other outlets. Therefore, the friends joined forces and launched a low-budget brewery dubbed Fidens, with Steve handling production, Tim sorting back-office responsibilities, and Michael working on finances.
Fidens, a Latin word for fearlessness, opened in Albany, New York, in 2019. The brewery's hot commodities are freshly canned IPAs crafted in a 2000-square-foot industrial space.
The fact that Fidens is still selling beer today shows how much people enjoy its beers. Fidens opened several months before the pandemic hit, shutting down everything. Despite being a fledgling and relatively unknown brewery, Fidens survived through drive-thru sales.
You can purchase the slightly sweet and pleasingly bitter IPA-style beers at Fidens' taproom in Colonie near Albany, New York.
You might feel spoiled for choice in Hudson Valley due to the variety of craft beer breweries in the area. The first location you should explore to soothe your craft beer thirst is the Hudson Valley Brewery in Beacon, New York.
Hudson's sours and IPAs are immensely popular. The brewery complements the already in-demand new releases with artsy can labels that make Hudson Valley Brewery beers stand out.
One of the brewery's latest offerings is Incantations, a rich, black lager brewed on roasted Yaupon – a native North American plant containing caffeine. Hudson collaborated with Yesfolk, a family-owned brewery in Troy, New York, to create the drink.
For Incantations and many more beers, visit the taproom from Thursday to Sunday. You can also pre-order beer for pickup or have beer delivered to you via UPS.
Mortalis Brewing Company opened in 2018 and grew a massive following by crafting beers using food items, creating a variety of uniquely-flavored beers for beer enthusiasts. When ordering from Mortalis Brewing Company, you are guaranteed to get something you've never tasted before.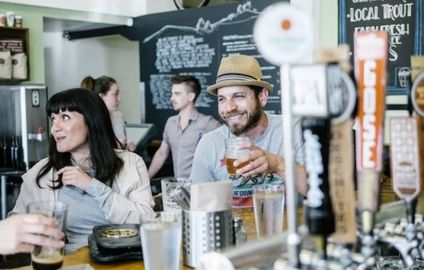 The brewery is based in a home in Avon, New York. It sells to-go beer through the front window and garage door and opens its beer garden from Friday to Sunday.
The demand for seats is often so high that revelers are limited to 90-minute intervals per table. Also, Mortalis Brewing Company doesn't accept reservations for its beer garden.
Mortalis is the place to go for 'unconventional' flavor combinations. They may not appeal to every beer drinker, but those willing to experiment will enjoy the offerings from Mortalis.
Pantomime Mixtures was created by friends from Long Island and New Jersey who met at a Colorado college. As Jesse and Matt's passion for craft beer grew, they decided to open a brewery. Colorado was too saturated with breweries, so they opened Pantomime Mixtures in Hector, New York.
The sours crafted by Pantomime mixtures are inspired by traditional Belgian and American brewers. Jesse and Matt source ingredients for their brewery locally.
The owners admit that the brewery's offerings aren't entirely unique – certainly not like the beers from Mortalis – but they have a variety of creative mixtures that can make a trip to Hector worthwhile.
Most of their fruit and sour beers have connections to wine – the brewery is situated in a vineyard overlooking Seneca Lake. Pantomime Mixtures packages its drinks in miniature wine bottles, highlighting the brewery's affiliation with wine.
We're off to Buffalo, a picturesque city on the shores of Lake Erie that's bested in size in the state only by New York City. There's plenty to do in Buffalo, and if it's a drink you need, pass by Community Beer Works to enjoy some of the best craft beer New York State has to offer.
The brewery is a locally-run operation – the staff has connections to the Buffalo community. Community Beer Works offers twenty beers consisting of permanent options, like the Frank American Pale Ale, as well as new and rotating offerings.
The outlet's brewers use traditional methods to craft the beer, so you will likely stumble onto a gem you've never tasted. A testament to the quality of Community Beer Works' products is the brewery's trophy cabinet: an Imperial Stout known as The Snow won the top prize at the Great American Beer Festival in 2020.
Community Beer Works also has a food menu and hosts events and workshops. The brewery has also made giving back to the people of Buffalo a key priority. For instance, Community Beer Works donates $1 for each six-pack sale of Good Neighbor, a canned IPA.
The outlet has raised over $25,000 for community groups through Good Neighbor sales. Therefore, you have plenty of reasons to visit Community Beer Works, including food, beer, and charity.
Scott Berger and Kyle Hurst founded Big aLICe Brewing Company and named it after a standout Queens landmark: the 'Big Allis' generator built by Allis-Chalmers, a Milwaukee company.
The brewery has crafted wild and sour beers since it opened in Long Island City, Queens, in January 2013. It started by selling one-off beer batches sold at the premises.
Big aLice opened its latest and third location in New York's Finger Lakes region. The Geneva, New York, site is family-friendly and scenic, providing gorgeous views that augment the joy of downing Big aLICe beers.
Throughout its growth, Big aLICe hasn't abandoned its commitment to using local ingredients. Big aLICe preserves New York's seasonal flavors in its crisp beers.
Rich Buceta, the founder of SingleCut Beersmiths, developed his enthusiasm for craft beer long before it became popular in the United States. Buceta honed his brewing craft as a homebrewer and in several professional breweries in New York City before launching his outlet in Astoria, Queens.
Buceta, a music enthusiast, sold his beloved collection of vintage guitars to raise money for the brewery. SingleCut Beersmiths reintroduced production brewing in Queens nearly a century after Prohibition laws shut the industry down.
Rich fused his passions for beer and music to create SingleCut Beersmiths: a 'SingleCut' references the original body design of a guitar. Like other breweries on this list, SingleCut Beersmiths has several signature beers, a rotating selection of drinks, and limited-release offerings.
You also get food at SingleCut Beersmiths and, occasionally, live music performances. Upon visiting the location, a key thing you notice is the significance of music to the brand. Most of the beers are inspired or named after musicians or musical instruments.
We've returned to Hudson Valley, specifically to Industrial Arts Brewing Company in Garnerville, New York. When Jeff O'Neil opened his brewery in 2016, everybody expected it to be a success – so it has proven.
O'Neil had demonstrated his mastery as a beer craftsman working for San Francisco, Ithaca, and Hudson Valley breweries. He acquired a sizeable pre-Civil War industrial complex highlighting his intention to increase production quickly.
The locals responded exceptionally well to O'Neill's creations, purchasing his beers and spreading the word about Industrial Arts Brewing Company. The brewery has various core offerings, including the Wrench series IPAs, several pale ales, and a pilsner dubbed Metric.
A testament to Industrial Arts Brewing Company's growth is the opening of a new location in Beacon, New York. The family-friendly site offers gorgeous views of the Hudson Highlands. It's an exceptional place to enjoy beer, food, and nature and to create memories with loved ones.
Finback Brewery is considered by some to be the hidden gem of New York's craft brewing scene. Founders Basil Lee, an architect, and Kevin Stafford fueled their passion for craft beer by brewing at home. After several years, they decided to open an outlet for commercial-scale brewing in New York City.
After a long search for suitable locations, they settled on an address in Glendale, Queens, thirty minutes away from the nearest subway on foot. Basil and Stafford were the only people working at the brewery in the first twelve months. Their efforts reaped rewards as people warmed up to the offerings from Finback Brewery.
Finback Brewery offers a variety of seasonal and limited beers. The brewery describes itself as one that likes to explore different flavors and styles. Finback Brewery releases a can or bottle every 2-3 weeks and has a tap room containing twelve rotating beers. For those unable to make it to Queens, Finback Brewery has an outlet in the Gowanus neighborhood of Brooklyn.
Finback is as concerned about crafting quality beers as it is about the betterment of society. In 2020, Finback Brewery launched a campaign dubbed Breathing: Conversations to spark conversations about racial justice and inequality.
Other breweries hopped on the bandwagon thanks to Finback Brewery, prompting beer drinkers to engage in critical societal conversations.
Greenport Harbor Brewing Company launched in 2009 in a former Greenport, Long Island firehouse. The founders spent two decades in their respective careers before tapping into their love for craft beer and opening the brewery.
The brewers were creative: they knew craft beer hadn't caught on in the area, so they crafted beers like Black Duck Porter with light flavors. This clever strategy attracted customers, leading to the rapid growth of Greenport Harbor Brewing.
In 2012, Otherside IPA from the little-known brewery beat other IPAs to the top prize at the Brooklyn Mystery IPA Challenge. Otherside IPA is a year-round offering from Greenport Harbor and is available at Madison Square Garden. The brewery reportedly can't keep up with the demand for Otherside IPA.
Other year-round releases included Harbor Ale and Haus Plis. The brewery also offers many seasonal and limited releases. The brewery's logo and the artwork on the bottles and cans are inspired by Greenport's history of whaling and fishing.
You can enjoy Greenport's food and drink offerings from the original Greenport location or the more recent Peconic site.
Coney Island Brewing Company has arguably the most interesting history of the breweries on this list.
The brewery launched in 2011 as the smallest brewery in the world, producing a gallon of beer per batch. At the time, Coney Island was known as Shmaltz Brewing Company and was located in Coney Island USA's Freakatorium.
The brewery's small size drew massive attention, guaranteeing that it sold every ounce of beer produced. The owners didn't plan to leverage the brewery's size for long – they hoped to relocate to a larger location in two years.
However, Hurricane Sandy hit before the move, destroying the brewery and placing it out of commission until 2015, when a new brewery opened near the original location. In 2018, Coney Island Brewing Company stopped producing hard beers and ales to focus on craft beer brewing.
The move paid off: the brewery's core offerings – Mermaid Pilsner and Merman NY IPA – sell in thirteen states. Coney Island Brewing Company also produces beers that celebrate its community, including the Parachute Jump Pale Ale. The drink is named after the 'Eiffel Tower of Brooklyn,' whose image forms part of the company's logo.
Lithology Brewing Company was a passion project of four friends who started brewing together in 2007. Therefore, by the time the farm brewery launched in 2015, the band had plenty of experience experimenting with flavors.
The company launched in Farmingdale's A Taste of Long Island before moving to 211-A Main Street. As the name suggests, science is a massive part of the brewery's beer-making process. The combination of science, locally-sourced ingredients, and a passion for beer crafting makes the offerings from Lithology brewing unique and tasty.
As a farm brewery in New York State, Lithology Brewing sources at least 60% of its ingredients from local farms, giving back to the community that drinks its beers. Lithology hasn't grown much since its launch and can be considered a microbrewery.
It produces four barrels of craft beer per batch. It's not a lot, but it's quality beer, making Lithology Brewing Company a favorite watering hole in Farmingdale. You won't be disappointed drinking at Lithology Brewing Company.
Despite being one of the pioneers of craft beer brewing in New York State, Butternuts Beer and Ale still operates from a converted dairy farm near Cooperstown.
The founders, Ann and Charles Williamson, decided to leave New York City following the events of 9/11. Charles used his seven years of experience working in Long Island and New York City breweries to open Butternuts Beer and Ale.
His main influences were – and still are – German, English, and Belgian beers. Butternuts Beer and Ale was among the first breweries to sell beer in cans at a time when craft canned beer was considered a market anomaly.
Butternuts Beer and Ale has crafted beer for nearly two decades, but the innovation hasn't faded. Charles hasn't lost his skill or willingness to infuse bold flavors into craft beer.
Therefore, there's a high likelihood of bumping into a fresh new flavor when you try out Butternut Beer & Ale.
Keith Owens was a merchant marine officer working on a tug barge when he decided to open a craft beer outlet. Owens named it Iron Tug in reference to his profession.
Owens had brewed beer for five years before leaping into commercial production alongside his brother Kurt. The pair found a space in a 1921 firehouse in Rochester, New York, and launched Iron Tug Brewing in August 2016.
The outlet offers core, rotational beers, and seasonal beers. In early 2022, Iron Tug launched Blue and Gold, a beer named after the Ukrainian flag colors. The brewery used ingredients referencing Ukrainian culture and donated sale proceeds to Ukrainian charities.
Located in East Fishkill, NY this unbelievable tasty facility was built in the place of an old IBM semiconductor (that's chips) factory. It all started in the local farmer's markets back in 2011. I remember friends going crazy over it in early 2013. The next year they open a production facility.
The beer is amazing. It is one of those rare places you can go where it is difficult to find a single craft that you will not enjoy thoroughly. Juice Bomb is by far one of our favorite IPAs in world, let alone our State. Far warning, the DIPA version really packs a punch, so always have a Designated Driver ready before you take it on.
The food is great too and the people are even better. We absolutely love this place!