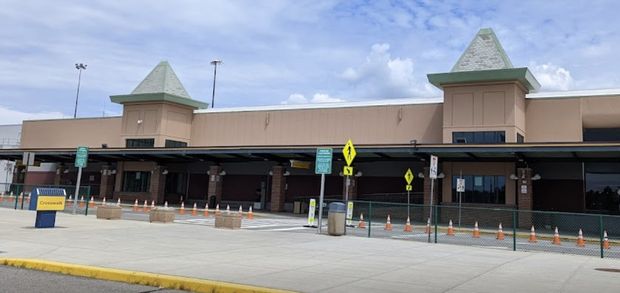 Stewart International Airport is the region's lesser-known airport located in New Windsor, New York. About 60 miles north of Manhattan, it is more than an hour's drive from the city. While it may not be at the forefront of all aviation activity, it is certainly more convenient than other renowned airports such as Newark and JFC.
No Frills | All About Convenience
If you are someone who is all about amenities, this is not the place for you. Only smaller planes come in, so I have yet to see a flight that even offered first-class service. There is no fancy bar or restaurant, no over priced alcohol bottle service. But you can't beat leaving your car for long term $12 a day parking and being at your gate in under 10 minutes from the time you pick up your bags. TSA is quick because only 1 or 2 flights are taking off each hour. If you get there with 20 minutes before boarding, you are all set. Give it 30 minutes on holidays.
History of Stewart International Airport
Categorized as a non-hub primary commercial service facility in the FAA (Federal Aviation Administration), the airport was first developed in the 1930s. However, it wasn't always a commercial facility. It began as a military base where cadets were sent to learn aviation. Fortunately, it managed to grow into a public airport for the mid-Hudson region.
Even today, it is a military airfield that houses the 105th Airlift Wing of the New York Air National Guard. Some sources also claim that a space shuttle from a program launched by NASA from 1981 to 2011 could have landed at this airport in an emergency.
It was in the year 1970 that it was closed as a US Air Force Base. However, for a long time, Governor Nelson Rockefeller's plans to expand it could not bear fruit. It was partially because of resistance from the local landowners.
Then, almost 11 years later, a plane carrying American hostages who were held in Iran landed at this airport and marked history. Almost 20 years after this, in 2000, it became the first US airport to be privatized when a UK-based National Express was given a 99-year lease on the property.
After years of struggle, the Port Authority was finally able to rebrand it as New York Stewart International Airport. It was primarily done to emphasize the airport's proximity to New York City.
4 Things You Did Not Know About the Airport
It Witnessed a 90% Reduction in Passengers
Yes, you read it right. While it isn't the most commercial of airports, Stewart International Airport still plays a significant role in assisting regional aviation activity. However, soon after the pandemic hit, it witnessed a 64% reduction in the number of flights that took off. Furthermore, according to Port Authority's traffic report, there was a devastating 90% reduction in total passengers.
It Contributes Immensely to the Region's Economy
Stewart International Airport has had a significant impact on the region's economy. With more than 2500 airport employees and more than 3000 jobs generated, its economic contribution can't be talked about enough.
Not Many International Flights Fly from the Airport
The last time the airport witnessed the departure of an international airline was in 2019 when a Norwegian Air Shuttle took off for Canada and Ireland. However, the carrier only operated at the airport for two years, starting in 2017. Many locals were disappointed to learn of this new development since they enjoyed Norwegian's service while traveling to Europe.
Several Improvements Have Taken Place Over the Years
One of the biggest hassles a passenger has to go through is undergoing the customs process. However, with newer facilities in place, the process is expected to get easier and quicker with just 30 minutes of labor from the plane to the curb. Once travelers have collected their luggage from baggage claim, they won't have to walk for more than a minute to the curb, parking lot, buses, or rideshare pickups.
All in all, the airport may not have the fanciest of vendors available at Newark or JFK, but there's a lot it offers even within the limited gate space. The airport certainly has the capacity to facilitate larger aircraft and more international flights.
In fact, when a Singapore Airlines flight was undergoing major turbulence due to weather, it was made to land at Stewart's 12,000-foot runway. There were no issues finding resources or space to accommodate it until it took off again.
How Many Airlines Fly Out of This Airport?
When the airport witnessed its peak back in 2018, it had five passenger airlines that sent out nonstop flights to Florida, Philadelphia, and Detroit. Today, the two major US-based budget airlines operating here include Frontier Airlines and Allegiant Air. Two International Carriers (Norse Atlantic Airways & Play Airlines) may also fly in and out of the airport.
Airport Terminals
The airport houses the main terminal, which has around eight passenger gates. On the other hand, another international arrivals station completed in 2020 has yet to make its debut. Over 400 passengers can be screened in this space per hour. There is only 1 terminal, if you are accustom to big airports this may be odd. You will understand the minute you get there.
Emergency Landings and Accidents Nearby
Among a few accidents witnessed at the airport is the one that occurred on September 5, 1996. In the early morning hours, pilots reported smoke in a cargo compartment of a flight from Memphis to Boston. Luckily, they were able to make an emergency landing at Stewart International Airport.
While five crew members escaped, the fire completely gripped the aircraft. Two years later, it was revealed that the source of the fire was a place where some flammables had been stored.
Then, in 2007, a single-engine Cirrus disappeared in the fog and soon crashed in the state forest. The rescuers spent three hours locating the wreckage by using the transponder. When they finally spotted the aircraft, they informed the authorities that the pilot had died, but the younger men survived.
Only four years ago, a plane carrying over 15 people, including the musician Post Malone, took a precautionary landing at the airport following the blowing of its two tires. In a nutshell, several events have taken place nearby and inside the airport, making it a historically significant spot.
Wrapping Up!
It's safe to conclude that Stewart International Airport isn't the first airport that comes to mind when you think of state-of-the-art facilities or fancy vendors. Despite the lack of all of this, it has successfully made its place among the best airports in the region. Many locals prefer it over overcrowded alternatives such as JFK and Newark for the right reasons.