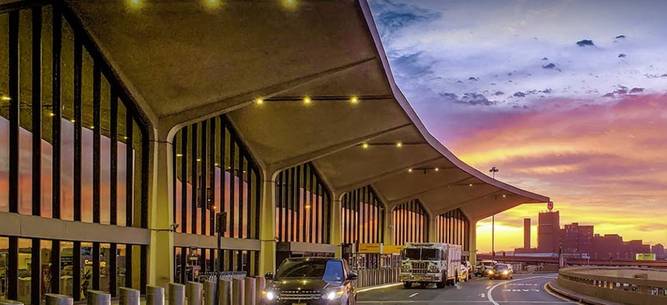 Newark is one of the biggest airports in the New York metropolitan area, followed by LaGuardia Airport and John F. Kennedy Airport in Queens.
All these three airports are located around Manhattan and experience large volumes of passengers in and out of their terminals every single day. However, Newark Airport, also called EWR, is the 14th busiest airport located in the United States.
About Newark Liberty International Airport
Newark Liberty International Airport opened its doors in 1928 and was the first big airport in the metropolitan area. Over the years, this airport has seen various changes and upgrades, such as renovations of Terminal B and, lately, Terminal C.
Terminal A is the oldest terminal in this airport, and there are hopes that it will get renovated soon, especially since a redevelopment program of 2.7 billion USD is underway. This project was announced in 2017 and is set to open in 2022. Rumor has it that this terminal will be able to accommodate double the people it used to. Moreover, there will be a new parking garage and a pedestrian bridge that will be climate-controlled.
Thousands of iPads will also be located across the airport, allowing passengers to order and buy restaurant items themselves. The best part is that, just like the other two terminals, Terminal A will also have unlimited Wi-Fi access.
Parking
The can easily be your biggest cost of air transport and often something people overlook. We fly out of here often and I do everything I can to stay out of long term parking. It is about $40 a day which really ads up over the week. There are several hotels and corporate parking areas that will shuttle you right to the front door of your terminal for less than half that cost. I have found a great resource at Cheapest Airport Parking to land those services.
Where to Eat at Newark Liberty International Airport
In 2017, Terminal C of the airport saw a 120 million USD renovation where 55 dining options opened up, each one better than the last. This gave tired and cranky travelers a wide variety of food options. Famous architect David Rockwell is the mastermind behind this terminal's eating area. He belongs to the Rockwell Group, which has made several top-notch restaurants, such as New York's Avra Madison and Nobu Downtown.
Even though there are many restaurant options that you can choose from, ordering is not complicated. Most restaurants here have an iPad on each table so you can order seamlessly. There is also a critique form online that you can fill out if you have suggestions for improvements. While your meal is being prepared, you can read the newspaper or play some games on the iPad while keeping an eye on your flight timing. A pay function also allows individuals to skip the cashier and pay online.
If you are traveling with your partner for the first time or going on a honeymoon, why not surprise your significant other with a secret dining experience at the airport? There is a 36-seat dining area hidden in another restaurant where only invited guests can dine. It does not allow individuals to wander directly through Terminal C; instead, this area is reserved for guests of United Airlines.
We aren't sure how guests are chosen or what you can do to find your way to this secret, top-notch dining area, but if you are lucky, you will receive an email invitation before your flight. This invite will include directions leading you to the secret location.
Newark Liberty International Airport Lounges
One of the perks of being United's biggest hub, the airline has many lounges across Terminal 1 to 4 of EWR. In 2018, the biggest lounge was swapped with a new Polaris Lounge, which can host a 50-seat restaurant, day beds, shower suits, and more than 1000 USB ports and outlets.
You will find many other international lounges inside Newark Liberty International Airport. One of these includes Air Canada's Maple Leaf Lounge, which can be found at Concourse A. If you are looking to unwind, make your way to the cell-free zone where there is nothing but peace and quiet.
You can sip a range of drinks while you are here, such as wine, coffee, and tea. If you get bored, you can access some famous magazines online- you will find more than 7000 publications written in any language of your choice.
If you are a Virgin Atlantic guest, you can spend some time in Terminal B at the Clubhouse. There are loads of dining options you can try here, such as a Clubhouse burger made with remoulade, chicken Milanese made with caper, lemon, and wild rocket sauce, or an artisan cheese board served with some pear chutney.
If you are feeling icky and want to freshen up, you can use the showers located in this terminal before jumping on your flight and reaching your destination. This is perfect for individuals who have to attend business meetings the minute they land.
Fun Facts about Newark Airport
It was not until 2002 that the word "Liberty" was added to the airport's name. This decision was made in honor of United Airlines Flight 93, which left Newark in 2001 and crashed into a small field after terrorists had hijacked it.
The airport was shut down for commercial use during World War II. Instead, Army Air Corps gained control over the airport and started using it for logistics operations.
More than 65 shops, restaurants, and kiosks are located in the airport.
Newark Liberty International Airport follows close behind Houston-Intercontinental and Chicago O'Hare airport as the third-biggest hub for United Airlines.
Newark Liberty International Airport is the oldest airfield that the nation has had.
There are a total of 59 gates in Terminal C, while Terminal B has 15 gates, and Terminal A contains 27 gates.
Things to Know Before Traveling from Here
One way to increase the visibility of luggage during the scanning process is to pack your luggage in layers.
Put as many things as you can in the checked baggage so that your carry-on only includes essential products.
Get rid of all metal items and keys, and coins from your pocket.
Arrive at the airport early, so you get through the security checkpoints on time.
There you have it! That's everything you need to know about the Newark Liberty International Airport so that you don't get bored the next time you're there!