The Empire State can often feel too urbanized, especially for nature lovers. Fortunately, you can easily escape the Big Apple's hustle and bustle because New York state has many beautiful hiking and walking trails. Which ones are worth visiting?
One of the most popular hiking and walking trails in New York State is the Appalachian Trail, which is 88 miles (142 km) long. It summits several small mountains, passing through rivers, waterfalls, and forests. The Finger Lakes Trail also attracts numerous hikers every year.
Read on to learn more about twenty of the most popular hiking and walking trails in New York.
1. The Appalachian Trail
With over 3 million hikers hitting the Appalachian trail every year, it has become the go-to path for thrilling adventures. Although the entire length is nearly 2,200 miles (3,540 km), only 88 miles (142 km) run through New York, which is still pretty long.
The relatively steady elevation makes it seemingly easy to hike, but that's not always the case. I recommend taking sections at a time for the best experience.
However, if you complete the route within the New York state border, you'll discover the following exciting places:
Trailside Museum and Zoo at Bear Mountain
Graymoor Spiritual Life Center
Lemon Squeezer
Bellvale Farms Creamery
Appalachian Market
Overall, this trail is for the most enthusiastic hikers with a few days to spare for the journey.
2. Ausable Chasm Trails
The Ausable Chasm trails are also popular in New York, but unlike the Appalachian Trail, they are much shorter and more family-friendly.
Scenic walking tours hosted here cover some part of the 5-mile (8-kilometer) trail, divided into the following:
Inner Sanctum Trail (1 mile/1.6 km): The paved path uncovers many of the chasm's treasures, including Column Rock, Hyde's Cave, and Rainbow Falls.
Rim Walk Trail (2 miles/3.21 km): Past visitors admit that the Rim Walk trail is the easiest to hike because its topography isn't as disturbed as others. However, some low hills still offer breathtaking overlooks of the chasm.
Dry Chasm Trail (1.5 miles/2.4 km): This trail stretches through the gorge with dense, rich foliage on a typical spring day. It exposes where the Ausable River used to run through before a redirection.
Rainbow Falls/Elephant's Head Vista (1/2 mile/0.8 km): True to its name, the half-mile trail's major highlight is a fascinating rock formation resembling an elephant's head.
3. Finger Lakes Trail
The Finger Lakes trail in New York is a portion of the longer North Country National Scenic Trail of over 4,800 miles (7,700 km).
Although the path branches into minor routes intermittently, the main trail is still a staggering 584 miles (939.9 km) from eastern New York to the New York-Pennsylvania border.
According to Alltrails, it's the longest continuous trail in the state, taking an average of ten days to hike. Only a handful of committed hikers have completed the journey.
Owing to its length, it's no surprise that the trail features several exciting stops, such as:
State parks
Wildlife management areas
State forests
The Finger Lakes National Forest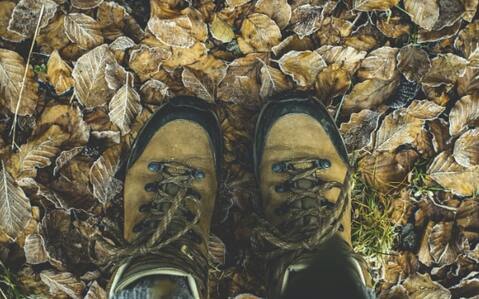 4. Eleanor's Walk Trail
The former first lady's home, Eleanor Roosevelt National Historic Site, interests many visitors for different reasons. Fortunately, you can take advantage of the trail south of the historic core.
It's just a mile (1.6 kilometers) long, so there's no need for extensive preparation. Just take a casual stroll on the loop, starting from the trailhead near the main parking lot.
Children and pets are welcome to walk the woodland paths, but at some steep hills, they may require your help.
The free activity allows you to delve into Eleanor Roosevelt's life as you follow her footsteps through the site.
According to My Day, the newspaper column that Eleanor Roosevelt wrote, it states that "You'll find spots that provided her repose, buildings that hosted family get-togethers, and areas that inspired her newspaper column."
5. Breakneck Ridge Loop
In contrast to Eleanor's Walk trail, the Breakneck Ridge trail is only for hikers of the utmost dedication and endurance.
It is a relatively short 3.2-mile (5.1-kilometer) loop that should take just over 2 hours to complete on average. However, the numerous steep hills and the rocky path make it considerably challenging to hike and, sometimes, climb.
Although you can bring pets along on a leash, most advise you don't, as the journey is arduous enough for one person. Kids can come too, but they may need to be carried at various points.
Despite the difficulty, you'll be glad you reached the top to witness the picturesque, sweeping views that will surely leave a lasting impression.
Breakneck Ridge Loop is the perfect destination for athletic hikers looking to escape the NYC bustle.
6. The Constitution Marsh Audubon Center Trail
Look no further than The Constitution Center Trail if you want a scenic and unforgettable hike in a New York swamp. It is a short trail of only 1.3 miles (2.1 kilometers), but with enough of Mother Nature's blessings to admire.
A sturdy boardwalk welcomes visitors at the trailhead to prevent their shoes from soaking in the Hudson River Estuary.
When you need to relax, there are numerous sitting spots from where you can enjoy the area's serenity, watch birds, detect obscure fauna and flora, and take beautiful panoramic photos.
One of the must-haves for this hike during the summer is an insect repellant. The area may be jaw-dropping, but bugs won't have mercy when feasting on you.
If you're lucky, there will be a guide for the trip discussing the area and animal conservation goals.
7. Catskill Hiking Trails
Whether you're looking for a short family-friendly trail or one that peeks thousands of feet above sea level, you're sure to find what you're looking for among the myriad paths available at the Catskill Mountains.
The rich wildlife will enthuse science freaks, sparkling silent waterfalls are waiting for their discovery, and several historic sites offer unforgettable tales. In short, you're in for a thrilling experience if you want to enjoy something more than hiking here.
Some of the most famous Catskill Mountain trails include:
Sam's Point: Surreal ice caves and the 180-foot/54/8 meters Verkeerderkill Falls are two of the most exciting highlights of this 7.5-mile (12.1-kilometer) hike.
Giant Ledge: Panoramic views can't get any more picture-perfect than it is at the multiple overlooks along Giant Ledge. It is relatively easy to complete the 3.75 miles (6.0 kilometers) length daily.
Kaaterskill Falls: At 260 feet (79.2 meters), Niagara Falls is no match for Kaaterskill in height, and a one-mile (1.6-kilometer) walk to its base will ensure you behold its ceaseless elegance.
8. Lake Placid Trails
Although Lake Placid, New York, is most famous for hosting various snow events at the 1932 and 1980 Winter Olympic games, hikers still find the area entertaining for recreation.
Several official and unofficial walking paths are in and around the village, so consider touring them when you're in New York:
The Mount Marcy Via Van Hoevenberg Trail is near the town and one of the hardest even for pros. It reaches 16 miles (25.7 kilometers) in length.
Cobble Hill (2.3 miles/3.7 kilometers) is easier to climb for commanding views of Lake Placid.
The 2-mile (3.2-kilometer) long Mount Jo Loop Trail's major highlight is the stunning overlook of Heart Lake, less than a mile from the trailhead.
If none of the aforelisted is your cup of tea, check out over 50 more here, and prepare for a once-in-a-lifetime experience.
9. Watkins Glen Gorge Trail
The state park in Watkins Glen, NY, is also popular among hikers wanting to stretch their legs. It is just over a mile (1.6 km) long, but the total trekking distance can be significantly more if you don't opt for the shuttle.
The stone path is kid-friendly, but they may find climbing 700+ steps to reach 500 feet (152.4 meters) pretty daunting. However, you will walk downhill if you begin from the upper entrance, which is less stressful.
Owing to how small and congested the paths may be, the trail is not the most recommended in NY if you want to focus solely on walking. Allures like cascading waterfalls can hold one spellbound in no time.
Nevertheless, these captivating attractions are what make hiking more worthwhile.
10. Coldspring Trails
Coldspring may seem too small and unassuming for city folks but not for keen hikers who've laced their boots and flooded her trails.
Tons of pathways are available for all experience levels, with spectacular landmarks and astounding views. Here are some popular ones first-timers should try:
Little Stony Point: This 1.3-mile (2.1-kilometer) loop is easy to hike yet boasts breathtaking vistas all along the way.
Old Forage Trail Loop: It takes pros only 30 minutes to an hour to complete this 1.9-mile (3.1-kilometer) loop, but it can take slightly longer if you permit the birds' sweet chirping to stall you.
Cornish Estate Trail: The Cornish Estate trail explores quiet woodlands in Hudson State Park, suitable for all ages. It is 1.8 miles (2.9 kilometers) in length.
11. Whiteface Mountain Summit Trail
Whiteface mountain is one of the highest peaks in New York, reaching 4,865 feet (1,483 meters). Hence, it is one of the most challenging hiking routes, but it still attracts numerous athletes.
The out-and-back trail is 10 miles (16.2 kilometers), taking hikers up to 1,103 meters (3618.8 feet) from sea level. Some paths can be muddy; others can be hard owing to lovely outcrops, so go prepared.
Whiteface Summit Trail opens year-round, but it's advisable to put on some snowshoes during winter for better mobility.
Because of how popular it is, you'll likely share the moments with others, making it less enjoyable if you prefer your own company. However, there's no harm in making new lifelong friends with the same interests.
12. Buttermilk Falls Gorge and Rim Trail Loop
Buttermilk Trail Loop is in a state park of the same name near the beautiful island of Ithaca, New York. It is about 1.6 miles (2.6 kilometers) long, with several stairs to elevate you to 459 feet (140 meters).
Hike-only visitors take nearly an hour to complete the loop, but if you are open to exploring the area as you move, it'll take much longer.
Unlike most public trails, this is subject to fees and seasonal closures under the park's excellent management. Regardless, it is still kid and pet-friendly, as long as the latter is well-behaved on a leash.
13. Cayuga Trail
Cayuga trail is another popular walking path close to Ithaca, New York. It is 10.15 miles (16.3 kilometers) long and quite muddy, which newbie hikers may find moderately challenging.
The area's scenery is one of the state's best as you follow the Fall Creek Gorge during the adventure. Some sites you can also find along include:
F.R Newman Arboretum
Beebe Lake Natural Area
Monkey Run Natural Area
Cornell Botanic Gardens
Mundy Wildflower Garden
Various car parks and bus stops are available, making it easier to begin the hike from any section.
To most hikers' delight, the trail is open year-round.
14. Letchworth State Park Trails
Letchworth State Park in New York has several scenic trails every hiker would love. Some may also be open to bikers, but others restrict them from interfering with your favorite activity.
Here are a few of the park's best:
Letchworth State Park Gorge Trail: It is a 14-mile (22.5-kilometer) out-and-back pathway that takes over 6 hours to complete.
Lower Falls via Genesee River Gorge Trail: During spring, the foliage along the 9-mile (14.5-km) route creates unbeatable views as you move.
Portage Trail: With just 1.6 miles (2.6 kilometers) available, the Portage Trail is one of the park's shortest.
15. Prospect Mountain Trail
Inexperienced hikers may find this steep trail quite challenging, but experts relish the challenge of peaking 2030 feet (619 meters). You can only imagine how spectacular the views will be at such height, overlooking Lake George.
The 3.2-mile (5.1-kilometer) out and back trail begins in Lake George Village after crossing a bridge over the Northway (I-87). It's relatively flat at the beginning and gets steeper toward the middle.
After rains, the route may be too slippery, but the beautiful floras may make up for it.
Also, expect to meet many others with various motives, be it picnicking, landscape photo-shooting, or hiking like you are. It's a popular trail!
16. Cascade Mountain Trail
The Cascade Mountain Trail is also sought-after among New York hikers of all experience levels. It welcomes visitors year-round, but research the best kit to take along depending on the season.
Some periods can be freezing and windy, and others can be too muddy, therefore, slippery.
It is 4.5 miles (7.2 kilometers), taking below six hours to complete a round-trip if you're dedicated. Pets on leashes are welcome, but they may slow you down.
The sweeping views at the summit, 1906 feet (581 meters) high, are impressive and picture-perfect, regardless of the time or season.
17. Overlook Mountain Trail
Overlook mountain is one of the Catskill mountains discussed earlier, but it is highly noteworthy because of its popularity. The trailhead to the nearly 1400 feet (427 meters) elevation is 4.6 miles (7.4 kilometers) apart.
It is moderately challenging to hike, taking nearly 3 hours to complete.
You can bring your pet along, but most don't advise it owing to the rattlesnake population.
It's fun to explore the forest along the way or marvel at the valley sights from the top. An even higher view awaits you from the Overlook Mountain Fire Tower there.
18. Storm King Mountain Loop
Storm King Loop leads up the mountain on the west coast of the Hudson River near Cornwall-on-Hudson, New York. It is 3.6 miles (5.8 kilometers) long.
Peaking it isn't for the faint-hearted due to the steep, rocky terrain, but you will be glad you endured the stress.
Standing at the top makes you 1102 feet (336 m) above sea level, and the scenery there is just priceless.
If you're bringing your leashed dog along, beware of rattlesnakes present, especially in the summer.
19. Gertrude's Nose and Millbrook Mountain Loop
This moderately arduous loop is in the Minnewaska State Park Preserve near Kerhonkson, New York. It is 6.7 miles (10.8 kilometers), peaking at 1141 feet (348 m).
There are numerous highlights on the hiking trail, which isn't surprising being a park, but if you're not distracted, it should take around 3 hours to complete.
Unfortunately, the park staff members close it to hiking in the winter, as they maintain it for cross-country skiing.
Also, you require an inexpensive ticket to access the trail, and the payment machines accept credit cards if you don't have cash.
20. Reeves Brook Loop Trail
New York's second-largest state park, Harriman, has numerous trails to keep hikers busy, and Reeves Brook Loop is one of them. It is 3.8 miles (6.1 kilometers) in length that should take 2-3 hours to finish with dedication.
Reeves Loop is one of the park's best trails because it passes through numerous natural charms, including streams, waterfalls, and rock scrambling.
Make sure that you only take the courses you see on your map, and follow the well-marked pathway. You can start the trip counterclockwise from the parking lot if you want to cut out the strenuous climbing.