Are you planning to take your kids on a fun trip to New York? Plenty of places can pull you like a magnet to spend your weekend. One of the famous family parks in the state is Legoland. One of the famous family parks in the state is Legoland. This lego-themed park has everything to entertain your kids while you enjoy the various activities in the area. Legoland New York is the third lego-themed park in the U.S. and takes up 150 acres of land. Let's dive into the details to help you find out all you need to know.
We have a complete park information, including its various sections and fun rides for kids.
Legoland New York – An Overview
Legoland has developed a positive reputation among families and kids living in New York. This fun park is located in Goshen, NY, less than two hours from New York City. It also corners New Jersey and Pennsylvania. The crown for the development of Legoland goes to Merlin Entertainment.
Whether you want to spend a few hours or enjoy the park's activities for the whole day, this lego-themed park will never let you be bored. Although mostly popular among kids, adults do not mind heading to the park to spend quality time with their families. If you want to maximize your Legoland trip, you can stay at the Legoland Hotel to have a refreshing experience.
Since the park extends on a hillside, you can find it on three levels. It is a lovely sight to look at the park's fun activities from the top of the hill when you arrive at Legoland, New York. The park can provide exciting views and places to sit and lean back if you are fond of greenery.
To help you get an idea of what you can find at Legoland, we have highlighted the different sections of the parks below.
Brick Street Section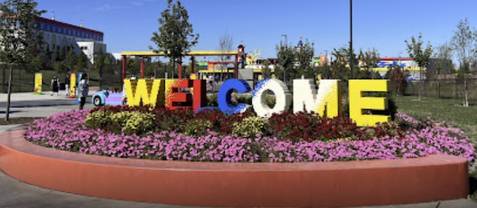 When you enter the park, the first section you will see is Brick Street. You can find the Brick Party carousel by Bertazzoni in the section to take your kids for a ride. Apart from the Brick Party carousel, the section also houses some lego models to entertain your kids. The Brick Street is a nice starter for your Legoland trip.
Since the park is open throughout the year, you can enjoy occasional events like Halloween parties on Brick Street. The lego models and the carousel ride can be a pleasant start to your Legoland journey.
Bricktopia Section
The next section you can find by going clockwise around the park is Bricktopia. This section is a center of attraction for many tourists due to its three exciting rides and eating area. Your kids can hop on the DJ's Dizzy Disco Spin, the Lego Factory Adventure Ride, and the DUPLO Express train ride.
Whether you visit the park in summer or winter, you will find these rides crowded due to their immense popularity. The train ride can accommodate adults and children alike. You can check with the park's management to find out more details about each ride.
Once free from the riding adventures, you can head to the Build & Test restaurant with an interactive fountain area. Most families spend time in Bricktopia to enjoy good food and the refreshing fountain water.
Ninjago World Section
As the name suggests, the Lego Ninjago World covers a space for ninja training. You can also find two rides in the section to keep your kids busy. The first ride is called Jay's Gravity Force Trainer. It is a music express to entertain kids. The second ride is Lego Ninjago, providing visitors with a 3D interactive experience.
Unlike most 3D interactive games, the Lego Ninjago minimizes the need for a joystick or gun to shoot at targets. You can use your hand motion to aim and shoot at the targets for fun. This activity can hook you up for a few sessions in a row. You may want to take sufficient time to enjoy the interactive 3D experience.
Castle World Section
The Castle World section is present at the bottom of the hill, taking a large space for a theater and rides. You may have to walk down the hill to reach Castle World. This section houses four rides, including Merlin's Flying Machines, Tower Climb Tournament, Dragon's Apprentice, and Dragon.
All these rides provide you with an exhilarating experience when exploring Castle World. Typically, the four rides are operational throughout the week. However, you may check with the park's management before planning a trip. Sometimes, the park administration shuts down some rides for maintenance purposes.
What makes these rides great is their interactive experience. You do not have to sit back and wait for the ride to end. Each ride involves the visitors in some physical activity. User-input rides also sharpen the children's cognitive abilities.
Lego City Section
The Lego City section is famous for its Granny's Apple Fries. However, it is not the only attraction in Lego City. You can explore other activities, including the kids-only driving school, Coast Guard Academy, Fire Academy, and a massive 4D theater.
You can enjoy boating and 4D shows to have a pleasant time and create good memories of the place.
Lego Pirates Section
Lego Pirates is the final section that allows you to have fun with interactive rides. The section houses famous rides, including Anchors Away, Rogue Riders, Zierer, and Splash Battle. You can enjoy these rides as a family or allow your kids to hop on any of these to have quality time.
Since Zierer is a jet ski ride, you may have to check for its availability before planning your trip to Legoland, New York. The park's official website can provide you with all the details you need to plan your trip to Legoland.
The Takeaway
Legoland, New York, is an ideal vacation spot for families with young kids. Whether you want to spend a weekend away or explore the location for a few hours, Legoland has everything you need to refresh your mood. If you are not a New York resident, you may contact the park's management to know the best time to visit.