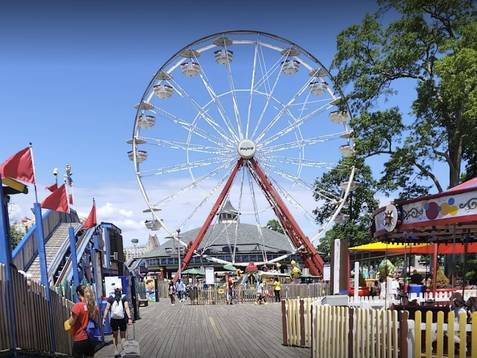 Playland park is a famous amusement park in Rye, New York. This fun-filled park is a magnet for kids and youngsters alike. The thrilling rides, water-based activities, and lake area make it a perfect vacation spot for those who need a quick getaway. Whether a resident of New York or traveling from another state, Rye Playland park can effectively fulfill your water park dreams.
If you want to plan a family trip to Playland park for the first time, you may want to familiarize yourself with the various fun activities in the amusement park beforehand. We have covered everything you need to know, including the park's location, activities, and other details.
Rye Playland Park – An Overview
Rye Playland is the only Art Deco amusement park in the United States. The park has witnessed many eras since its construction and is regarded as one of the best parks in the country. Constructed in 1928, Rye Playland spreads over a 280-acre playground area. You can indulge in various joy rides, water games, and picnics.
Due to its century-old structure, the park's management has made several developments to preserve its history. Apart from joy rides, you can enjoy the scenic views of the Long Island Sound. Local and international tourists visit the place throughout the year.
You can reach the park by driving or taking a train or bus. Playland park also offers public transit and member admissions for adults and children. You may contact the park's administration or visit the official website to explore admission details.
Activities to Explore At Playland Park
Rye Playland has many rides and attractive spots to enjoy. Most visitors find it challenging to experience all the activities in a single trip. Some rides can hook you up for repetitive sessions, making it nearly impossible to explore other activities within the same day. To help you decide on your activity priority list, we have covered the details of the most attractive spots at Rye Playland below.
Dragonator Circular Disc
Dragonator is an adventure ride to entertain people of at least 48 inches in height. The giant circular disc moves back and forth on a track, providing a thrilling experience to riders. What makes it great is its whip-force that keeps it moving between the extreme of the track.
Since the ride takes a free fall at the top, you may want to ensure safety protocols as guided by the management to avoid complications. If you are passionate about exhilarating rides, you may quickly hook to taking multiple rounds of Dragonator.
The Plunge Log Ride
If you have a thing for water games, the Plunge at Rye Playland can multiply your fun. It operates by allowing people to board a log and move through the wavy water-based track. The ascent and descent make it a fun-packed experience for visitors. You may enjoy the crest while heading down to splash in the water.
The Plunge is suitable for riders who are at least 44 inches tall. However, riders with shorter heights must board the log under the supervision of an adult. Please note that children below 38 inches in height cannot ride the Plunge. You may also want to take a proper swimming outfit to avoid wetting your clothes. Since the log does not have a seating space, the water soaks the riders completely.
Yo-Yo Open-Air Chairs
Do you want to sit back and enjoy the lovely views of the park and Long Island Sound? Yo-Yo open-air chairs can perfectly meet your demands. It is a single-seat chair that swings at various levels while operational. Riders can take a seat and lean back to enjoy the views. Since Yo-Yo swings in a 360-degree format, some riders may get nauseous.
You may check with the park's administration to take necessary precautions before riding Yo Yo at Rye Playland park. Typically, riders who fear heights settle for open-air chair swings due to their optimal height and speed.
The Crazy Mouse One-Car Coaster
Do you like roller coasters? If yes, the Crazy Mouse single-car coaster can fulfill your dream in Playland park. It is a mouse-shaped single car that takes you through various sharp curves and up- and downhill patches. It is worth mentioning that the Crazy Mouse ride may not be suitable for faint-hearted people. Moreover, you must hold the car tightly to avoid bumping into the sides through sharp turns.
As directed by the management, the riders must be at least 48 inches in height to hop on the Crazy Mouse ride. If you are prone to nausea, you may avoid having food or drinks before taking the ride to avoid throwing up.
Bumper Cars
One of the most popular activities at Rye Playland is Bumper Cars. This fun game can keep you busy for hours due to the never-ending fun it brings. Suitable for at least 54-inch tall riders, Bumper Cars allow you to sit and drive the mini cars and bump into other drivers to get them out of your way.
Kids often love playing bumping car games. It gives them a sense of driving in the early stages while learning how to take corners and avoid bumping into other cars. You can check with the park's management or visit the official website to explore more details about Bumper Cars.
Old Rye Motorbike Factory
If you or your kids like to have fun bike rides in a safe setting, nothing will appeal to you more than Old Rye Motorbike Factory. It is among the most attractive spots at Rye Playland. This fun ride allows riders to hop on motorbikes fixed to a central unit. You can pull the throttle to speed up into the air or slow it down, allowing you to enjoy the minimal thrill.
The motorbikes also have an additional seat to take your kids along for the ride. Since Old Rye Motorbike Factory operates in a limited capacity, you may have to wait your turn on crowded days.
The beginning of summertime is always one of the most wholesome and exciting times of the year for both children and adults.
While children are beyond thrilled for their long summer holidays that they can spend at the beach, in the mall, or out playing at a park, adults are also looking forward to planning a trip or a day out with their kids and loved ones, to celebrate the summertime playfulness, positivity, and joy.
If you have yet not visited New York City during the summers, it is high time that you do. From some of the most uplifting beach parties to the richest and most delicious street food, New Yorkers are truly known for their ability to make the entire summer season feel like an endless celebration.
However, if you are conflicted about whether your summer day out needs to be at a sandy beach or a thrilling outdoor amusement park, you don't have to choose anymore.
Located on the sandy shores of a beautiful sandy beach, Playland Park is one of the most exciting, thrilling, adventurous, and historical parks in the entire Northern New York City.
Hence, if you want to make lasting memories with your children, friends, or a lover while eating freshly-spun cotton candy on a roller coaster ride or laying on the golden sandy beach, there could be no place better for you than Playland Park.
To learn more about Playland Park's location, its historical value, and what activities you can enjoy during your visit, keep reading.
Where is it Located, and How Can You Get there?
If you ever visit the city of Rye, you will come across at least one person that tells you to go and spend a day at Playland Park. Fortunately, getting there is quite easy for all first-time visitors.
Located on the Playland Parkway, in the city of Rye, Westchester County, New York, the popular Playland Park is built right next to the stunning Rye Playland Beach.
Hence, as soon as you head towards the Rye Playland Beach shores, you will be able to spot the tall Ferris wheel, and the many roller coaster rides from afar.
This historic outdoor amusement park is usually open all year round, except for when renovations are being carried out.
Moreover, the entrance ticket is usually the cheapest on a weekday and most expensive during a holiday; however, visiting guests need not pre-buy a ticket online. Instead, they can always buy the ticket on-spot whenever they decide to visit Playland Park.
Furthermore, visitors can either call Playland Park's office for any required directional guidance, or they can simply visit the amusement park's official website for well-guided directions and maps.
The History of Playland Park
Although New York City is home to some of the most modern and fantastic outdoor amusement and theme parks in the country, people still prefer relatively older amusement parks for their nostalgic allure and historical landmarks.
Hence, if you, too, are someone wanting to enjoy a fun ride on an outdoor roller coaster while reminiscing on old, equally beautiful memories, Rye city's Playland Park is the excellent destination for you.
First built and opened to the public in 1928, Playland Park was constructed in an ongoing fast developmental phase in the late 19th and early 20th centuries, as new hotels, recreational parks, and resorts were constantly being constructed.
After being provoked by the local population that was overwhelmed by the fast developmental projects and the influx of visitors, the Westchester County Park Association decided to build Playland Park after purchasing the two exited parks, Paradise Park and Rye Beach.
A highly-experienced veteran park manager, Frank Darling, was hired to plan out and manage Playland Park, while a well-known architectural firm was hired to construct it. As a result of these professional hirings, Playland Park became the first official amusement park in the entire Westchester County.
Over the following years, several exciting rides were added to the park, which were always safe and usable. However, despite the efforts, a massive accidental fire at Playland Park in 1966 destroyed some of the park's most valued and visited attractions, such as the Magic Carpet Funhouse and the Bumper Car ride.
By 1982, the park was run by the Marriott Corporation, which failed to generate any substantial revenues. As a result, in 1983, the park was taken over by Westchester County.
In 1987, Playland Park was officially declared a National Historic Landmark, and in 2001, the park became the most visited tourist destination in the county.
Developments continued in the following years; however, the 2012 Hurricane Sandy once again ruined many key attractions that were the major money-makers.
By 2016, new investors were brought in to once again revive the 280-acre Playland Park's appeal, and in 2019, its first ride since 2008, the Disk'O half-pipe, was unveiled to the public.
All You Need to Know Before Visiting
Rye city's Playland Park is most populated during the holidays, hence if you want to visit when it is relatively less populated, choose a weekday.
Usually, the cues for the rides can be quite long, so the best tip is to get to the park as early as you can.
Line cutting can be a problem at the park, so stay vigilant and do not leave your spot.
Although many of the vintage rides and attractions have been shut down temporarily, they are expected to return in the coming years.
The Best Reviewed Rides and Attractions at the Playland Park
Catch a Wave
The Crazy Mouse
Double Shot
Derby Racer
Dragonator
Dragon Coaster
Log Flume
The Plunge
The Whip
Yo Yo
Gondola Wheel
Catch'N Ride
House of Mirrors
Grand Carousel
What Should You Pack Before Leaving for Playland Park
A camera
A change of clothes and water shoes if you plan on heading to the Rye Playland Beach
Your favorite snacks
A sunhat
Sunshades
Sunscreen
Final Thoughts
If you are someone who loves a sandy New York beach and also wants to spend the day taking rides on exciting roller coasters, the best place for you can be other than Playland Park.
Hence, head down to Westchester County's Rye city to enjoy a day at the historic Playland Park to create wholesome memories with your family and loved ones.