New York State is home to some of the world's most renowned art galleries. From modern masterpieces housed in futuristic buildings to small, independent venues showcasing the best of emerging local talent, and whether you're an art collector or just an admirer of fine art, there's something here for everyone.
Some of the best art galleries in New York State include Gagosian, Michele Mariaud, Hauser & Wirth, David Zwirner, and The Hole. New York's top galleries are concentrated in Chelsea and Manhattan and boast an incredible collection of Renaissance, contemporary, and modern artworks.
This article will provide an in-depth overview of the top art galleries in New York State, so you can plan your visit and discover some amazing pieces.
1. Gagosian Gallery
Touted as one of the most influential galleries in the world, Gagosian Gallery is renowned for its cutting-edge exhibitions featuring some of the most iconic works in contemporary art. Established by Larry Gagosian, the undisputed master of the art world, in 1999, the gallery now has 19 locations across the globe, including Los Angeles, London, Paris, Rome, and Hong Kong.
Gagosian's impressive 20,000 sq ft (1,858 sq m) New York branch offers six exhibition spaces dedicated to the artworks of renowned contemporary artists. The gallery's exhibitions typically explore a diverse range of topics, from abstract painting to modern art.
The gallery is highly respected for its commitment to education, curating in-depth artist talks and panel discussions with the most influential voices in contemporary art. Since its inception, Gagosian Gallery has presented some iconic exhibitions from artists such as:
Damien Hirst
Andy Warhol
Ed Ruscha
Ellen Gallagher
Anselm Kiefer
Its awe-inspiring exhibitions have made Gagosian Gallery a must-visit destination for art experts and casual visitors.
2. Michele Mariaud Art Gallery
The Michele Mariaud Art Gallery is one of the most respected galleries in New York City. Located in SoHo, the gallery features a wide selection of works from both emerging and established artists. Its signature style explores the relationship between art and photography, designing exhibitions that stimulate conversations about identity, perception, and cultural heritage.
The gallery boasts a unique curating style, which has earned it recognition from international art experts. Michelle Mariaud exhibits in popular international fairs, including:
Affordable Art Fair NYC
Market Art + Design in Bridgehampton
Miami Pulse
Art Palm Springs
Scope and Art on Paper in New York
The gallery is equally respected for its in-gallery exhibitions and installations that feature groundbreaking works from some of the most talented emerging and established artists. Michele Mariaud also hosts regular educational programs and artist talks, which allows visitors to explore the art world in a more intimate setting.
Michele Mariaud has made art buying a smooth, hassle-free experience for all its visitors and has a diverse selection of artwork that celebrates the best of contemporary art. With a large inventory of over 300 directly accessible artworks and access to some of the most in-demand pieces, it has become a go-to destination for discovering and acquiring one-of-a-kind art pieces.
3. Hauser & Wirth
Hauser & Wirth is an internationally renowned gallery specializing in contemporary art and sculpture. Founded by Iwan Wirth, Manuela Wirth, and Ursula Hauser in 1992, this gallery features world-class, thought-provoking works of art.
It has several exhibition spaces in Hong Kong, London, and Los Angeles, making it one of the most extensive galleries in the world. The New York branch has two locations at W 22nd Street in Chelsea and the Upper East Side at 32 E 69th Street.
You can explore the works of some of the world's most acclaimed contemporary artists, such as:
Martin Creed
Louise Bourgeois
Urs Fischer
Roni Horn
Philip Guston
The Hauser & Wirth Institute offers grants programs and scholarships to support emerging artists and curators. It also hosts lectures, workshops, and other educational programs to engage with the community.
Hauser & Wirth is a must-visit for any art lover visiting New York City with its dynamic exhibitions and unique approach to contemporary art.
4. David Zwirner
Recognized as one of the world's most influential and successful galleries, David Zwirner is a powerhouse art gallery with spaces in New York, London, and Hong Kong. Founded in 1993 by David Zwirner, a German expatriate and art dealer, the gallery has presented some of the most significant works by groundbreaking artists.
David Zwirner grew rapidly to become one of the most respected galleries in New York, hosting some of the biggest names in contemporary art. Below are its three New York locations:
West 20th Street in Chelsea dedicated to museum-level exhibitions
West 19th Street in Chelsea for international contemporary art from renowned artists like Luc Tuymans, Marcel Dzama, and Lisa Yuskavage
East 69th Street in Upper East Side opened in 2017, presenting cutting-edge works by emerging artists
Other notable artists that you can find in David Zwirner include:
Gerhard Richter
Jeff Koons
Sigmar Polke
John Baldessari
Brice Marden
The gallery is committed to fostering its artists' creative development with innovative exhibitions and events.
5. Front Room Gallery
Located in Chinatown on Hester Street, Front Room Gallery is a hidden gem in New York City's art scene and has become a haven for contemporary art since its opening in 1999.
The gallery has an extensive collection of artwork from both emerging and established artists. More importantly, most of what you'll see is tied to social issues, including environmental, political, and cultural topics. The emphasis on such pieces allows visitors to explore contemporary art's rich depth.
Front Room Gallery also provides a unique experience with its open-plan space, which allows visitors to explore the artwork without barriers and encourages a more intimate interaction. Additionally, it has a unique approach to curating exhibitions, focusing on immersive installations and performances that explore the relationship between art and its audience.
The gallery has become a prime destination for art enthusiasts because of its various workshops, artist talks, and exhibitions. Notable artists that have exhibited in the gallery include:
Ken Ragsdale
Patricia Smith
Thomas Broadbent
Sean Hemmerle
Paul Raphaelson
From its amazing interior design and unique artwork curation to artist talks and performances, the Front Room Gallery will surely provide an unforgettable experience for any art lover. The interactive and immersive atmosphere makes it a must-visit destination for anyone looking to explore New York's vibrant art scene.
6. Bitforms Gallery
Established in 2001 by Steven Sacks, Bitforms Gallery is located in the Lower East Side and is one of New York's leading galleries for new media and digital art. The gallery features a wide selection of artwork from emerging, mid-career, and established artists that focus on interactive media, digital photography, virtual reality, and installation-based works.
The gallery's cutting-edge exhibitions provide an unprecedented look into the world of new media art, pushing boundaries and exploring uncharted creative terrain. Utilizing the latest technology, the gallery has provided exclusive access to immersive and interactive art experiences unparalleled in scope and depth.
Bitforms Gallery features a range of artwork from international artists to local creatives that is sure to stimulate and inspire. Along with its projected exhibitions during live performances, the gallery also provides educational programs, talks, and workshops to help visitors better understand the digital art world.
Here are some of the notable artists that have exhibited in the gallery:
Marina Zurkow
Refik Anadol
Gary Hill
Beryl Korot
Manfred Mohr
R. Luke DuBois
Daniel Canogar
Siebren Versteeg
Daniel Canogar
Casey Reas
The gallery's incisive, thought-provoking exhibitions are sure to captivate any art lover. Digital, time-based, and interactive art installations, paired with workshops and artist talks, make Bitforms Gallery an essential destination for anyone interested in exploring the possibilities of new media art forms.
7. James Fuentes Gallery
If you love innovative and experimental art and are a fan of the obscure and unusual, look no further than James Fuentes Gallery. Located in the Lower East Side, this gallery was founded by New York gallerist James Fuentes in 2007 and has since become a go-to destination for contemporary art.
The gallery's eclectic selection of artwork comes from renowned international artists and emerging talent, allowing visitors to explore the latest trends in modern art. Exhibits have ranged from sculpture and painting to site-specific installation and video art.
Notable artists that have exhibited in the gallery include:
Jules DeBalincourt
Jim Radagast
Toby Buonagurio
Al Souza
Edgar Arceneaux
Lou Beach
Vincent Fecteau
Brooke Shaden
The gallery has a unique approach to curation, blending contemporary art and innovative technology. With an emphasis on the experience of viewing artwork, the gallery has crafted unforgettable exhibitions that explore the possibility of art in the digital age.
8. Cavin-Morris Gallery
The Cavin-Morris Gallery, situated in Chelsea's gallery district, is an energetic hub of art and culture that showcase an eclectic selection of tribal and contemporary art from around the world. Established in 1982 by Shari Calvin and Randall Morris, this vibrant gallery promotes exceptional works of contemporary and self-taught non-mainstream artists.
From mesmerizing sculptures to captivating installations, you'll be immersed in a world of vivid colors and breathtaking visual works. The authenticity, creativity, and unique vision of the Cavin-Morris Gallery's artists will leave you in awe as you soak up the sights and textures.
Its incredible collection features work by prominent artists such as:
Amalia
Mohamed Babahoum
Vincent Atherton
Rebecca Buck
William Dawson
Yukiya Izumita
Check out current exhibitions and upcoming events to plan accordingly, and remember to grab a gallery map to make the most out of your visit. You'll be awe-struck by the talent and creativity of the artists as you admire their works at Cavin-Morris Gallery.
9. Pace Gallery
Pace Gallery has been a major force in the New York art scene since its opening in 1960. It's among the preeminent galleries worldwide, representing blue-chip, mid-career, and emerging contemporary artists. Its two locations in New York feature exquisite works of art, including public installations, single-artist presentations, and group exhibitions.
The gallery offers a collection of iconic works by leading figures in the art world, such as:
Alexander Calder
Gideon Appah
Jo Baer
Harry Callahan
Mark Rothko
Jean Dubuffet
Agnes Martin
Barbara Hepworth
Lynda Benglis
Chuck Close
Nigel Cooke
Its stylish, elegant, and well-lit spaces make for an enchanting experience. With a combination of top-notch exhibitions and events, Pace Gallery is among the must-visit galleries in New York. Take a trip to one of its two locations and explore the eclectic works of art that grace its walls.
10. Marianne Boesky Gallery
If you're looking for a unique, thought-provoking, and world-class art experience, head to the Marianne Boesky Gallery at 507 W 24th Street. Opened in 1996, this contemporary art gallery has quickly established itself as a go-to destination for cutting-edge exhibitions and exceptional works of art.
The gallery's extraordinary collection spans from Pop art to abstract expressionism and features works by established and emerging artists worldwide. Marianne Boesky Gallery's commitment to presenting thoughtful, innovative, and visually engaging exhibitions stands out from the crowd.
You'll find the works of leading contemporary artists such as:
Sarah Sza
Takashi Murakami
Yoshitomo Nara
Pier Paolo Calzolari
Sue de Beer
Gina Beavers
Sanford Biggers
Ghada Amer
Jenniffer Bartlett
This gallery is the perfect place for art lovers to explore and uncover new, creative ideas. Grab the chance to see innovative pieces and experience the talent of some of today's most exciting artists.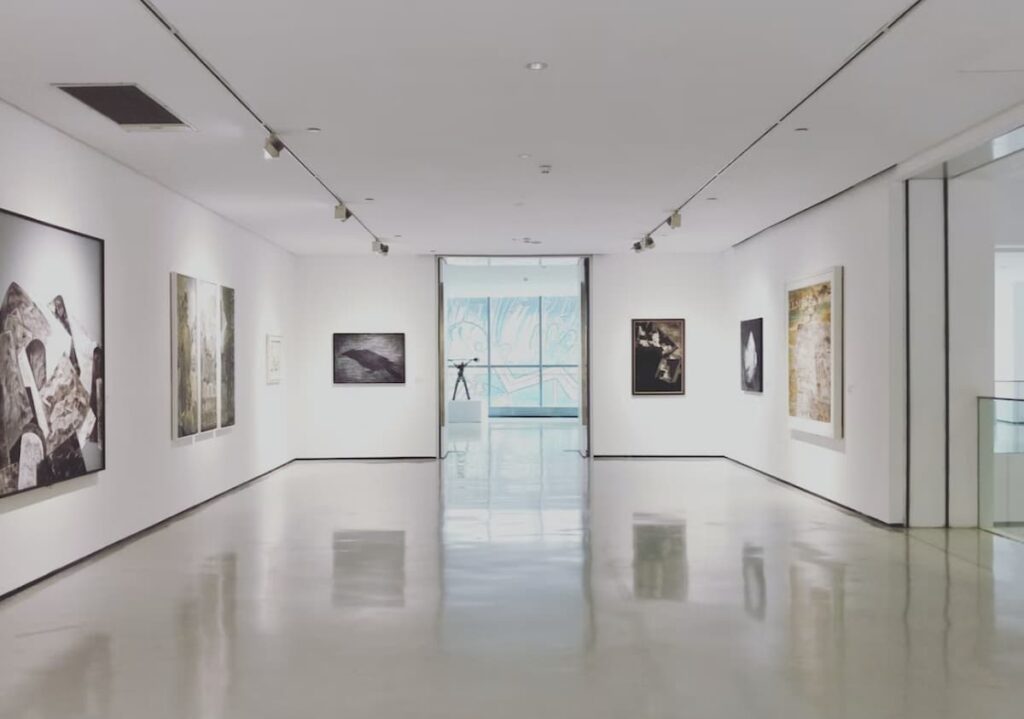 11. Krause Gallery
Since its founding in 2004, Krause Gallery has become a beacon of the creative and innovative arts scene in New York City. Located on Orchard Street and quickly gaining traction in the Lower East Side's vibrant art scene, the gallery attracts many contemporary art aficionados with its wide selection of artwork.
The Krause Gallery is a melting pot of painting, sculpture, and multimedia art. Its mission is to provide a platform for emerging artists to showcase their work alongside established talents in contemporary art.
Recently, the gallery has entered the Non-Fungible Token (NFTs) world to join the global crypto art movement. NFT is a digital asset stored on a blockchain and tracked for ownership. It has taken the eclectic art world by storm, and Krause Gallery is proud to be at the forefront of this new wave.
The gallery's roster of artists includes:
Chris Dean
Bri Cirel
Ben Frost
Oliver Hibert
Miles Jaffe
John Paul Fauves
Thirsty Bstrd
Emil Alzamora
Paul Kaptein
Plastic Jesus
Pappas Parlor
Krause Gallery is the perfect destination for art lovers and collectors looking to explore all the possibilities of contemporary works. With its ever-changing selection of artwork, the gallery offers a unique experience for art enthusiasts and aspiring artists alike.
Browse the gallery's vast inventory for thought-provoking works, or join the gallery's NFT community to discover the latest in crypto art.
12. Foley Gallery
Add Foley Gallery to your list if you want a more intimate and personal art experience. Founded by Jennifer and Stephen Foley, this gallery has become one of the most beloved in the Lower East Side.An artistic haven in a small space, it offers a massive collection of art ranging from photography, painting, and sculpture to drawing and cut paper.
The gallery has temporary and permanent exhibitions that are often accompanied by book signings, live music performances, and other engaging events. Foley Gallery also organizes a public program called The Photo Community that educates professional artists and emerging talent on integrating photography into their practice.
Some of the acclaimed and most talented artists who have made a name for themselves in the gallery include:
Simon Schubert
Joseph Desler Costa
Sage Sohier
Ina Jang
Henry Leutwyler
The artworks typically showcased here are visually stunning but also thought-provoking and curious. The gallery provides an up-close look at the artists' practice, merging fine lines and obsessive precision to create stunning works.
13. The Hole
This list would not be complete without mentioning The Hole. Founded in 2009 by Kathy Grayson, this cutting-edge art gallery is located at 312 Bowery and 86 Walker Street in the heart of New York City. It is a fun, creative, and avant-garde space for art lovers to explore.
The Hole is a living, breathing art gallery that seeks to push the boundaries of art in both concept and form. It has earned its reputation as one of the city's most exciting galleries, showcasing work from emerging and established artists.
Every month, The Hole presents solo and group exhibitions that explore various topics and mediums, such as painting, sculpture, and digital art. They also sell books, prints, and editions you can take home as a souvenir.
The gallery's talented local and international artists have included:
Alex Gardner
Adam Parker Smith
Ben Jones
Anne Vieux
Eric Shaw
Caroline Larsen
Maja Djordjevic
Kevin Christy
Pedro Pedro
Eric Yahnker
Caitlin Cherry
The Hole's mission is to celebrate the creative process and provide a platform for experimentation and collaboration. With a unique approach to curation and presentation, the gallery has become a must-see for all art enthusiasts.
Their heavy involvement in community outreach programs and art education initiatives has also made The Hole one of the most welcoming galleries in New York City.