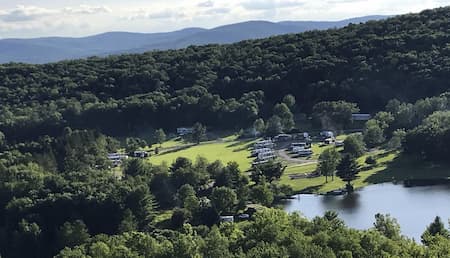 Located in Windsor, NY, just 20 minutes away from Binghamton, NY., Forest Lake Campground is a picturesque 110-acre campground that surrounds a beautiful 22-acre lake. The spacious campground attracts a peaceful and family-oriented community, with the majority of campers at the Forest Lake Campground being seasonal.
Campsite Amenities
With many options in campgrounds, the necessity for RV park owners and campground managers to continuously be at the top of their game is growing. Forest Lake campground is a great place where you can go camping and hiking and be close to nature at the same time. The campground offers lush greenery and picturesque surroundings, which makes a trip worthwhile.
Forest Lake Campground offers 98 sites at elevations ranging from 459 m to 1,500 ft. While this is considered a seasonal campground with just a few daily sites, there's a lot that the Forest Lake campground has to offer both new and experienced campers.
A few wilderness sites lack power, but that's not the case at the Forest Lake campground. However, since not everyone enjoys camping in the wilderness, those new to camping should generally opt for campsites with power available at each campsite.
Forest Lake campground has a lot to offer, making it one of the best destinations for avid campers and hikers. Apart from being a secure destination, the campgrounds offer the usual fire rings and picnic tables along with Free, high-speed, fiber optic Wi-Fi, Great Cell Phone Service, and Firewood that's conveniently delivered to the site. Other perks at the Forest Lake campground include boat rentals (paddleboats, canoes, and even rowboats), newly updated bathrooms with free showers, and a large playground.
Some of the unique facilities offered at Forest Lake Campground include the option of leaving your camper at the campsite. The season runs from May 1 to October 15. Electric is metered and billed on a monthly basis. It also includes free winter storage.
For campers, some of the features at the Forest Lake campground include picnic tables and sites that are reservable. Electric hookups, drinking water, Wi-Fi access, toilets, and a market where you can pick up the essentials. Other amenities at the Forest Lake campground include easily accessible pull-through sites with sewer and water hookups and sanitary dumps. All sites are big-rig friendly for added convenience.
Forest Lake Campground was founded in 1960 and has always been a family-run enterprise. A few original campers from that era still work there, and what's even more wonderful is that they now bring their grandkids to appreciate the campground's many charms.
Fishing, swimming, and boating can be done at almost all locations in the campgrounds. Seasonal sites are provided both on and off the lake. There are more sites than most. Enjoy our play area and recreation area.
Moreover, you may use the large 5-acre field for any type of sport or gathering. Take a mile-long stroll around the lake. Go for a hike in the woods or stay at one of the wooded tent sites for that truly remote sensation. There seems to be always something going on at Forest Lake. Visitors can also play bingo every Saturday. The pavilion can be rented for celebrations of any kind, including weddings. The wedding season typically runs from May 1 through October 15. If you want a waterfront site for the holidays, you must make reservations as soon as possible by calling or emailing the management at Forest Lake.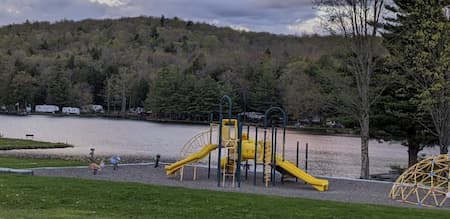 All in all, Forest Lake campground is an extremely lovely camping area near the lake. The landscape is absolutely breathtaking. Weekends might be raucous, but during the quiet hours, things calm down. A well-maintained campsite with plenty of room between campers. Amazing vistas and a great atmosphere among the seasonal campers. Stay by yourself and unwind all day, or join in on the enjoyment that this fantastic campsite has to offer. There also happens to be a beautiful lake for paddling or swimming, which is an added advantage. For those wondering, the campgrounds are also pet-friendly, so feel free to take along your pets when visiting the Forest Lake campground.
Fishing
The majority of campers in the summertime must swim. Even though a lake would appear perfect, campsites without a natural water feature might include a pool. Pools seem to be a safer and wiser choice for families with young children. However, boaters and anglers could be less enthused if there isn't a lake or river. However, that's not the case at the Forest Lake campground.
The 22-acre lake is 8 feet deep at its deepest point and is mostly made of cattails, other kinds of grass, and stumps. Most captured bass are between one and three pounds and around a foot long.
To provide visitors with an excellent experience, all visitors are advised to engage in catch and release. Fish species include yellow perch, blue gill, bullheads, grass carp, and largemouth bass.
Directions
Forest Lake campground is located at Windsor, New York, 20 minutes east of Binghamton. New visitors are advised to get off exit 80 off route 17(86). From I-86:Exit 80 (Damascus), take est. on Old Rt 17, then a left at 2nd fork; the campground is approx 3.7 mi from the Hwy exit. Visitors can park next to the campsite, and all sites are easily accessible via watercraft.
Fees and Rates
The average cost is $30 per week / $50 per night. With it, you get the full hookup, including electricity. It is important to note that the campground only accepts checks or cash (no credit cards). For those who are looking for seasonal visits, you will have to pay up $850 per month. This will get you a full 50 and 30-amp hookup with a direct septic connection. Electricity is paid monthly and metered.