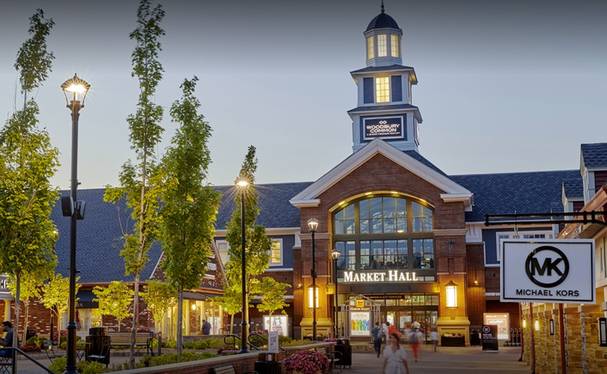 If you want to do some shopping on your next trip to the New York area, you might want to consider stopping by Woodbury Common Premium Outlets. With more than 200 stores, including Banana Republic, Kenneth Cole, Saks Fifth Avenue OFF 5TH, and many more brands just waiting to be shopped, you'll find something great to bring home.
If you're traveling to New York, do you intend to shop while you're there? Why not consider going to Woodbury Common for the day? Woodbury Common features everything a shopaholic might want, including high-end goods at low prices. From the most prestigious drink brands to the most high-end brands of clothing, jewelry, watches, and other fashion items.
Contrary to popular misconception, the outlet mall is not exactly affordable. High-end stores transfer their unsold and excess inventory to the outlet and then mark it down. Millions of people visit the Woodbury Commons; as a result to take in its grandeur and splendor and shop among some of the most desirable products at steep discounts of 20% to 65%.
Located in Central Valley, New York, the outlet center opened its doors in 1985. Since then, it has undergone several expansions and renovations, and today it features more than 200 stores.
Funny sidenote: Mr. McClain was in middle school directly across the street from the Commons as it was being built in 1985-1986.
What is super cool about this experience is the immersion of culture and language. This is the one spot outside of NYC where English speakers are in the minority. If you just want a day to broaden your horizons, take a walk around the Commons and take in the wonderful people that are all about.
Woodbury Common is especially popular with international shoppers as it offers substantial savings on sought-after brands like Gucci, Prada, and Calvin Klein.
It is located directly where Route 17 (Soon to be I-86; although they have been saying that for 2 decades) meets the NYS Thruway (I-87). With its convenient location and impressive selection of stores, it's no wonder that Woodbury Common is considered one of the best outlet centers in the country.
The shopping mall, which Simon Property Group's Premium Outlets own, is named after the town where it is situated. The center, one of the biggest uninterrupted outlet facilities in the world, included 220 stores spread across over 800,000 sq ft (72,000 sq.m) and was first established in late 1985. It was enlarged in 1993 as well as in 1998. Due to its magnitude, the various parts are color-coded to aid in navigation.
The mall unveiled a planned $100 million infrastructure project in 2011 that would be the first major growth since 1997. The plan would add a three-level parking structure, 60,000 sq ft (5,600 sq.m), more commercial space, new store designs, and improved traffic flow inside the mall. According to the projection, the project will result in 350–400 seasonal jobs at the new stores and 400 construction positions.
The three-year project was synchronized with Thruway interchange upgrades that would start at that time. The modern parking structure was inaugurated in August 2015. To direct drivers to available places within the deck or to higher levels, the deck is set up with a series of signal lights in green and red.
Woodbury Common is so close to New York City, making it a popular destination for out-of-town visitors. Chinese tourists are now the most frequent international visitors, surpassing Japanese tourists.
It's a massive space. Therefore, you should put on some sneakers or buy something there. To visit every store, you'll need about three hours. The massive contiguous outlet store, which first opened in 1985, now has 220 locations. The store is home to many individual stores for reputable designer brands. The business is continually growing and adding new locations, and the discounts and exclusive offers are also frequently changed.
So, if you enjoy shopping, it can be difficult to resist becoming too excessive. And it would be understandable if you ran out of time or money or overfilled your bags with goods you found on sale.
Where is the Woodbury Commons Located, and How Can You Get There?
The shopping center is in Central Valley, New York. The shopping haven of New York is Woodbury Common, located almost one hour away from the north of New York City. The landscape is stunning, with lush green hills in the background and a view of the Woodbury Common.
Getting there
Numerous vehicles go from New York City and the outlets because the mall is a well-liked day trip from New York. Uber and numerous other taxi services are reasonably priced options for individual and group transportation. However, if you are in a position to do so, you might pay a more costly door-to-door shuttle service to collect you from your residence or hotel.
In case you missed it, no trains go to Woodbury Commons. The nearby town of Harriman has the closest railroad station. You will still need a taxi even if it is only a five-minute trip.
Last but not least, Woodbury Common is conveniently located just 25 minutes from Stewart International Airport, making it the ideal addition to your itinerary for the day of your arrival or departure.
Can't-Miss Things to do at Woodbury Common Premium Outlets
Here are 10 of the can't-miss things to do at Woodbury Common Premium Outlets that will improve your experience there!
1. Have Some Iceream at Haagen-Dazs
Haagen-Dazs at Woodbury Common Premium Outlets is the perfect place to find a delicious ice cream treat. The store offers a wide variety of flavors, including vanilla and chocolate, and more unique flavors like passion fruit and green tea.
Haagen-Dazs also offers a selection of dairy-free and gluten-free options so everyone can enjoy their ice cream.
In addition to ice cream, Haagen-Dazs also offers a variety of other desserts, such as cakes, cookies, and cheesecakes.
So whether you're looking for a refreshing treat on a hot day or a decadent dessert for a special occasion, Haagen-Dazs at Woodbury Common Premium Outlets is sure to have something for you.
2. Have Some Coffee at Starbucks
Nestled amongst the high-end designer stores, shoppers can find a little oasis at Starbucks Coffee in Woodbury Common Premium Outlets.
As the name suggests, the coffee at Starbucks is premium, and the service is always friendly and efficient. The baristas take pride in their work, which shows in every perfectly crafted cup of coffee.
In addition to its signature drinks, Starbucks also offers a variety of pastries and sandwiches. The chocolate croissants are flaky and buttery, and the chicken salad sandwiches are a refreshing option for a quick lunch.
Starbucks Coffee at Woodbury Common Premium Outlets is the perfect spot, whether you need a mid-shopping pick-me-up or just looking for a relaxing place to take a break.
3. Shop at Fabiana Filippi
Woodbury Common Premium Outlets is home to an impressive collection of designer brands, and shoppers will be pleased to find that Fabiana Filippi is among them.
Founded in 1985, Fabiana Filippi is a leading Italian fashion house known for its understated elegance and high-quality craftsmanship. The brand's clothing features clean lines and classic silhouettes, making it a perfect fit for the modern woman.
Shoppers will find an array of dresses, blouses, pants, and more at the Fabiana Filippi outlet, all at a fraction of the regular retail price.
Whether looking for a new outfit for work or a special occasion, you will find something at Fabiana Filippi that fits the bill.
4.      Get Your Favorite Footwear from Aldo
Aldo at Woodbury Common Premium Outlets is more than just a shoe store. It's a destination for shoppers looking for the latest trends in footwear and accessories.
The store offers a wide selection of items for men, women, and children, including shoes, handbags, belts, and more.
In addition to its great selection, ALDO at Woodbury Common Premium Outlets also provides excellent customer service. The knowledgeable staff is always ready to help shoppers find the perfect item and always willing to advise on how to style the latest looks.
Whether you are looking for a new pair of shoes or browsing the latest trends, Aldo at Woodbury Common Premium Outlets is the perfect place to go.
5.      Get Your Sports Wear from Adidas
Woodbury Common Premium Outlets is home to many high-end fashion brands, but it's also a great place to find a deal on sportswear.
Adidas is one of the most popular sports brands in the world, and its outlet store offers deep discounts on everything from sneakers to athletic apparel.
Shoppers can find reduced prices on Adidas' signature styles and performance-oriented gear.
The outlet store also carries a rotating selection of limited-edition and collaboration items. Woodbury Common Premium outlets are worth visiting if you're a die-hard Adidas fan or looking for a good deal on some new workout clothes.
6. Enjoy Dining at Parm
Parm at Woodbury Common is the perfect place to pick up a quick bite while enjoying some shopping at the premium outlets.
The menu offers a variety of sandwiches, including the famous chicken parmesan sandwich. The chicken is tender and juicy, and the sauce is flavorful and slightly spicy. The sandwich comes with a side of french fries or a small salad. The fries are crispy and well seasoned, and the salad is fresh and crunchy.
Parm at Woodbury Common also offers a selection of pizzas, pasta, and salads. The pizzas are thin and crispy, and the pasta is cooked al dente. The salads are fresh and flavorful, including ingredients like roasted cherry tomatoes, grilled zucchini, and shaved Parmesan cheese.
Whether you're looking for a quick bite or a leisurely meal, Parm at Woodbury Common is sure to please.
Bottomline – Is It Worth Visiting?
There's no denying that Woodbury Common Premium Outlets is a great place to find bargains on top-brand merchandise.
But is it worth visiting? The answer is a resounding yes! Here's why:
The selection of stores at Woodbury Common is second to none.
The deals at Woodbury Common are hard to beat. It's not uncommon to find items discounted by 50% or more.
There's plenty of parking and things to do for kids of all ages. Plus, the food court offers a wide variety of dining options.
So if you're looking for a great place to shop and save money, Woodbury Common Premium Outlets is definitely worth a visit!
Why Visit Woodbury Commons?
The retail paradise has a laid-back colonial American hamlet vibe. Not to mention the buildings' beautiful architecture, their impeccable finishing and care for each detail, and the lush landscaping that enhances the luxury ambiance. There are a few department stores and designer boutiques. The outlet stores have a wonderful layout. These stores are organized into the Hudson Valley, Saratoga, and Niagara neighborhoods.
Additionally, the stores are oriented inward around a network of interconnecting corridors that lead to common outdoor areas. The walkways are beautifully paved and may have short trees or manicured shrubs lining them for decoration. The management has shown consideration by designating distinct colors for the mall's various wings.
Restrooms are dispersed throughout the mall in various locations, as you might expect. Furthermore, the plenty of color-coded parking areas make parking an easy task and finding your car easier.
Once you've finished your shopping and are feeling worn out, you can get a reservation at one of the many fine restaurants such as Shake Shack or Parm. The restaurants provide mouthwatering fare, various seating options, family rooms, and outdoor dining areas with tables.
Top Ten Shopping Brands at the Woodbury Commons
Gucci
Dolce and Gabbana
Versace
Banana Republic
Armani
Nike Factory Outlet
Burberry
Chloe Coach
Valentino
Balenciaga