Throughout New York State, wine is a beloved part of celebrations and gatherings. And when it comes to wineries, you'll find many destinations throughout the state. From large-scale operations to small family-run wineries, each offers unique flavor profiles and experiences.
Some of the best wineries in New York State are Brotherhood Winery, Kontokosta Winery, and The Red Hook Winery. You'll also find wineries worth visiting in vineyards like Wölffer Estate. Long Island, Finger Lakes, and The Hudson Valley are the prominent regions for winemaking in New York State.
In this article, we'll explore some of the best wineries in New York State and what makes them stand out.
1. Brotherhood Winery
Located in Washingtonville, Brotherhood Winery has been producing world-class wines since 1839 and is the oldest continuously operating winery in the country. Just an hour north of Manhattan, Brotherhood has become a popular destination for wine lovers from all over the world.
Visiting Brotherhood Winery is an unforgettable experience for anyone who appreciates fine wine or just wants to relax with friends or family. Guests can take part in wine cellar tours that detail the history of the winery, as well as sample some of their finest wines.
The wine selection at Brotherhood includes classic varieties such as Chardonnay, Pinot Noir, Cabernet Sauvignon, and Riesling, as well as some special blends like Carmenere and New York White.
2. The Saratoga Winery
The Saratoga Winery has been the go-to spot for wine lovers and enthusiasts in Saratoga Springs ever since it opened its doors in 2009. This family-owned winery has become a staple of the local community, with visitors from near and far flocking to experience Saratoga's wide selection of wines crafted from locally sourced grapes.
From their signature Saratoga White to the aromatic Semi-Dry Riesling, The Saratoga Winery offers an impressive array of flavors perfect for any palate. In addition to their wines, they also provide a charming winery experience.
The atmosphere at The Saratoga Winery is one of relaxation and fun. The fun-spirited staff is friendly and knowledgeable about the different wines available on their menu, so you can find what you love quickly. Plus, they even offer special tasting events so you can try new wines before committing to buying them.
And if you're looking for something special to do with your partner or friends, check out their event calendar for unforgettable experiences like comedy and live music.
3. Wölffer Estate Vineyard
Wölffer Estate Vineyard is a long-running vineyard and winery that produces some of the best wines on the East Coast. Nestled in Long Island, the winery has been producing award-winning wines since 1988. And with its stunning natural beauty and unique varieties, it is no wonder why this vineyard has become such a popular destination for wine lovers throughout the state.
The primary focus at Wölffer Estate Vineyard is to produce high-quality craft wines with an emphasis on meticulous care. All their wines are produced from grapes grown exclusively on their own estate property.
Wölffer Estate Vineyard offers a wide selection of wines to suit all palates. The winery is known for its award-winning White Horse wines and Grapes of Roth private label. Their vineyards are planted with only the best grape varieties, which produce fruit-forward and balanced flavors. Visitors to their wine-tasting room can choose from reds, whites, rosés, and more.
4. Pindar Vineyards
Pindar Vineyards has been producing fine wines for over four decades. Located on the North Fork of Long Island, this winery, founded by Dr. Herodotus "Dan" Damianos, offers an array of sustainable wines that cater to all tastes. From classic white and red vintages to sweeter dessert wines, Pindar's portfolio is sure to please any wine enthusiast.
The vineyard is situated on a beautiful landscape with sprawling fields and vines. Visitors can tour the winery and learn about its history before tasting some of its signature blends. The tasting room also provides guests with gourmet cheeses, crackers, olives, figs, and other treats designed to pair perfectly with their wines. Additionally, Pindar Vineyards hosts various events throughout the year, including live music performances and farmer's markets.
5. Sparkling Pointe Vineyards & Winery
Sparkling Pointe Vineyards & Winery is a beautiful, relaxing destination for wine enthusiasts seeking a chic and elegant wine-tasting experience. It offers spectacular views of a 40-acre (16-hectare) vineyard and a truly memorable experience for both novice and experienced wine tasters.
Visitors to Sparkling Pointe will be delighted by their range of sparkling wines, with options from dry to semi-dry and sweet varieties. Their knowledgeable staff is always available to answer any questions or offer advice on the perfect selection for any occasion. In addition to tastings, guests can also take part in educational tours that take them through the history of champagne and sparkling winemaking.
A visit to Sparkling Pointe will give you a unique experience of rare and exquisite sparkling wines handcrafted with precision and passion. You'll be guided through elaborate tastings by knowledgeable staff who will guide you through each wine's special characteristics, flavors, and aromas in a relaxed setting. You'll also learn about how different foods pair well with various wines.
6. Lenz Winery
Have you been looking for a peaceful, picturesque destination to enjoy some of the best wines in the country? Located in Long Island, Lenz Winery is a stunningly beautiful 70-acre (28.7-hectare) vineyard that boasts a laid-back atmosphere and vibrant scenery.
Surrounded by sprawling vineyards and lush green fields, visitors can savor their favorite wines while enjoying breathtaking views. The winery boasts an expansive patio where guests can relax with friends and enjoy conversations. You'll find picnic tables, chairs, and tables with umbrellas in the winery. And if you visit over the weekend, you might even hear live music.
Lenz Winery has been releasing its own Chardonnay, Merlot, and Cabernet Sauvignon for more than four decades. Its winemakers are passionate about creating beverages with complex aromas and flavors that accurately represent the characteristics of their grapes. The careful selection process in the vineyard contributes to optimal ripeness and balance in each wine, while the precision in processing results in an expression of flavor that is true to its variety.
By utilizing traditional techniques during fermentation and aging, Lenz Winery captures the distinct essence of each grape while also ensuring consistent quality across every bottle produced. By selecting only the finest and most flavorful grapes from local vineyards, Lenz Winery ensures that not one bottle fails to meet their high standards.
7. Kontokosta Winery
Kontokosta Winery has one of the most beautiful buildings on Long Island. The winery overlooks the harbor and offers stunning views all year round. Inside the building, guests are welcomed into a bright and airy space with floor-to-ceiling windows that maximize natural light while providing plenty of seating for large and small groups.
The tastings offered include an array of delicious wines from their vineyard as well as charcuterie boards to pair perfectly with each sip. Afterward, visitors can take advantage of the outdoor patio to relax, admire the aesthetic grounds, or purchase bottles from the retail shop to bring home.
Kontokosta Winery is an inviting destination with a laid-back environment that makes you feel like you are in your own backyard. Here, you can enjoy some of their award-winning wines while taking in views of the Peconic Bay from the winery's outdoor seating or cozy up indoors near their tasting bar.
For those looking for more than just wine, Kontokosta offers small bites and snacks to pair with your drinks. The winery's atmosphere is defined by its rustic decor and comfortable furniture, where guests can lounge long after finishing their last sip.
8. Macari Vineyards
Macari Vineyards is the perfect place for a delicious and unique wine-tasting experience. This winery offers tastings with premium cheeses and cold cuts paired to perfection with a splendid glass of wine. The views from their decked area make every tasting an unbeatable experience.
The decked area overlooks a lush vineyard, so you can enjoy your food and wine while taking in all the beauty of nature around you. The family-run winery prides itself on offering only quality wines accompanied by delectable food for an unforgettable tasting adventure. You can sample wines from all over the region or even pick up some bottles to take home.
Wine enthusiasts can also learn from guided tasting experiences led by highly trained wine educators. At Macari Vineyards, guests can taste their selection of locally produced wines while learning about the rich history behind Macari's family-owned label. Through these interactive sessions, wine enthusiasts will become well-versed in understanding flavor profiles and identifying aromas to hone their palate preferences.
9. The Red Hook Winery
A visit to The Red Hook Winery in Brooklyn is an experience like no other. Overlooking the river and the Statue of Liberty, you can savor fine wines while taking in stunning views of one of America's most iconic landmarks. This unique opportunity allows visitors to savor both the beauty of its setting as well as the flavor of locally produced Long Island and Finger Lakes wines.
The winemakers at Red Hook Winery craft their products with careful attention to detail, creating wines that are unique and full of flavor. It is a labor of love that can take years to perfect, but the result is worth all the hard work. You'll love The Red Hook's wines for their complexity, intensity, and overall quality. These bottles finish gracefully, leaving you with a feeling of satisfaction that is truly unparalleled.
Additionally, visiting The Red Hook with your friends or significant other is a great way to relax and unwind. Not only will you be able to sip on some delicious wines, but you'll also get to enjoy the peaceful atmosphere of the winery. The environment is perfect for having a quiet and laid-back conversation.
10. Five Sons Winery and RG Brewery
Five Sons Winery and RG Brewery is a hidden gem located in the village of Brockport, New York. This local winery, brewery, and restaurant offers an impressive selection of crafted beers, tasty wines, and warm burgers. You'll even find frozen gelato for dessert. From their famous Baco Noir to their light and refreshing pale ale, visitors can sample various drinks.
The laid-back atmosphere at Five Sons Winery is perfect for a casual wine-tasting experience. The decor is inviting and warm, creating an atmosphere that feels like home. You can sit back in the comfortable seating areas while sipping on your favorite glass of wine. The staff also goes out of their way to make sure everyone has an enjoyable experience. Additionally, they are knowledgeable about all things wine-related, so you're welcome to ask questions.
11. Osprey's Dominion
Osprey's Dominion is a winery located on Long Island. This picturesque vineyard, set on over 90 acres (36.4 hectares) of land, offers guests a unique wine-tasting experience surrounded by breathtaking views. The grounds are especially inviting, with plenty of outdoor seating and umbrellas. You can settle under the shade of the vines or bask in the sun as you savor your favorite vintage.
In addition to wine tastings, Osprey's Dominion offers free membership to their wine club. The wine club is a great way to learn about the winery's newest selections and get exclusive discounts and special offers. Members of the club will receive announcements of upcoming events at the winery, along with bottles of select wine with notes for each.
12. Borghese Vineyard
Known as Long Island's founding vineyard, Borghese Vineyard is an absolute must-visit for any wine lover. Located in Cutchogue, this vineyard has become renowned for its Estate wines, which are made from grapes harvested from their own vines and crafted by their expert winemakers. With a picturesque backdrop of spacious fields and stunning views of the surrounding countryside, you will want to savor every moment spent. Guests can bring their own picnic and make the most of their time here.
Borghese Vineyard offers a unique tasting experience where you can sample some of the best Sauvignon Blanc and Merlot Cab Sauvignons. The staff can customize your wine-tasting experience according to your wishes.
In addition to their premium offerings, they also offer tours and tastings featuring locally sourced foods that pair perfectly with each glass of wine. Their knowledgeable staff will provide information about each varietal and tips on how to pair different wines for maximum enjoyment.
13. Insieme Wines & Tasting Room
Nestled in the heart of Nassau County is one of the area's most beloved boutique wineries, offering visitors an unforgettable experience. From handcrafted wines made from local grapes to an interactive wine tasting room, Insieme Wines & Tasting Room makes for the perfect spot for wine lovers to indulge and relax.
The boutique winery offers a wide variety of both red and white varietals that have been expertly crafted by their talented team of winemakers. A visit to Insieme is ideal for any occasion, from a romantic dinner for two to an afternoon with friends. This boutique winery offers unique experiences that allow you to make memories and share the joy of wine with others.
Because Insieme is small and intimate compared to other wineries, it allows you to take in the sights and smells of your environment while savoring your favorite wines. Plus, they offer tastings with an excellent selection of cheese and charcuterie board for an exceptional experience.
14. Altamont Vineyard & Winery
Visiting Altamont Vineyard and Winery on weekend afternoons is always a fun experience. Located in the foothills of the Helderberg Mountains, this picturesque location offers a family-friendly atmosphere and outdoor space where kids can play as adults chat over cheese, crackers, and wine.
Established in 2006 by the DiCrescenzo family, the winery is located on a beautiful 26-acre (10.5-hectare) property. The family's winemakers have perfected their craft over four generations. Their portfolio consists of reds, whites, and semi-sweet wines made with grapes sourced from their very own estate vineyards.
Altamont Vineyard & Winery is a hidden gem that serves as a gathering spot for friends and family. It has hosted many weddings and special events. Many guests are thankful to discover this place where they can share stories, experiences, laughter, and great wine.
15. Pail Shop Vineyards
Pail Shop Vineyards, Winery, and Tasting Room brings a unique winemaking experience to Fly Creek Valley. Located in a repurposed barn, Pail Shop specializes in handcrafted small-production wines that capture the flavors of the region. With their hallmark hospitality and down-home charm, visitors to Pail Shop can expect an unforgettable experience as they sip on delicious wines while taking in breathtaking countryside views.
With 40 acres (16 hectares) of grounds with a hillside vineyard, visitors at Pail Shop have an idyllic landscape to marvel at. Adirondack chairs around the pond allow visitors to relax and enjoy the tranquil atmosphere.
The winemaking process at Pail Shop begins with the careful selection of grapes from the best-growing regions throughout New York. The grapes are then crushed, pressed, fermented, and aged on-site to ensure consistent quality. The result is a unique experience for wine lovers, with every bottle telling its own story.
Here are some honorable mentions. These are wineries that we enjoy as well.
Dr. Konstantin Frank – Hammondsport, New York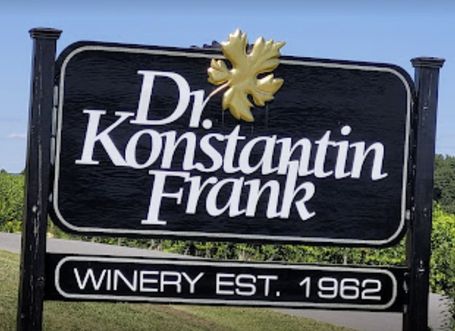 Speaking of the Finger Lake region, how can we not mention Dr. Konstantin Frank? This winery in Hammondsport isn't the best without reason. Carrying its legacy of being an award-winning winery since 1962, it also treats visitors to stunning views of Keuka Lake throughout the year. Apart from the award-winning wine, the place is also known for its dry Riesling, which is undoubtedly a fan favorite.
For the last 25 years my wife and have spent every nonworking moment on centering ourselves around the best wines available in our area. It helps that we within 25 miles of house the best 14 of the top 30 wineries in the Northeast are located. But it also helps that we branch out and over the last 30 years we have been to well over 125 wineries in our State.
These are our top picks for sure:
Thousand Islands Winery – Alexandria Bay, New York
For a wine buff, just drinking it is not enough. You want to know what stages the winemaking process goes through before reaching your mouth, and this winery will certainly quench your thirst for all this knowledge.
Thousand Islands winery has more than 22 different varieties of wine. It doesn't end here. The place has not only won 168 medals over the last decade, but it has also established its place among the local visitors. While you're there, don't forget to taste all varieties of wine while you learn how the winemaking process unfolds.

Three Brothers Winery & Estates – Geneva, New York
While it's a relatively new winery in the state, it has come a long way in establishing a rapport with its existing and new customers. Over the last ten years, it has grown immensely in the market, and it's all thanks to the tireless labor of the "three brothers" and sons of the founder, Dan Anderson.
There are a total of three wineries, a coffee company, and a brewery within the estate. What's more? Coffee beans are brought in from Rochester. That isn't it. It was also named one of the best wineries in New York State in 2016.
Warwick Valley Winery & Distillery – Warwick, New York
Warwick Valley may not be the most advertised winery, but it's certainly the place to be during fall. Here, you can enjoy a good meal at the Pane Café and simultaneously have some delicious wine. However, don't be discouraged by the long queues.
It's for a good reason that the place has garnered immense attention over the last few years. That isn't it. Apart from their wine selection, you can enjoy their liqueurs and brandy. While at it, make sure to taste their out-of-the-world pear flavor.
Spring Lake Winery – Lockport, New York
Spring Lake Winery is situated along the Niagara Wine Trail on land that is roughly 78 acres. However, it isn't only known for its liqueurs and wines. This is where you go when you wish to take in the breathtaking views while you taste your wine.
You can also spend an entire day on the Vineyard Express. Once you get on the train, there's no going back from what you'll experience next. The countryside it'll take you through is filled with history, and the winery itself will be a delightful addition to it. Enjoy your wine while you grab a bite and listen to some music. The place is primarily known for its merlots, zinfandels, and Rieslings.
Bully Hill Vineyards Winery – Hammondsport, New York
There are a number of things that make this winery unique, and its wine is only the first one on the list. As soon as you pick out a bottle of your choice, you'll immediately notice how amazing the artwork is.
Then comes the civic sense that we can't boast enough about. The vineyard is known for its environmentally conscious attitude toward everything. From using recycled boxes and glasses to recycling grape pumice, Bully Hill Vineyards Winery has one motto – "Reuse everything."
Ports of New York – Ithaca, New York
This one is known for its Meleau Specialty Wines. This winery is owned by Frederic Bouche, this winery uses many techniques to create its beverages, and the most interesting part about it is that the owner learned everything from his great-great-grandfather.
It isn't every day that you get to experience something so exotic. As soon as you taste one of their Meleau wines, you'll be able to go down the history lane and see the artifacts passed down through the generations.
Hermann J. Wiemer Vineyard – Dundee, New York
Have you ever encountered a winery that incorporates traditional and modern practices to prepare its wines? We can bet you didn't. Don't worry because Hermann J. Wiemer Vineyard is where you need to be.
In fact, this vineyard has been celebrated for years as the producer of some of the best red wines in the state. Interestingly, Hermann wasn't the only winemaker in the family. His mother and her family have been involved in the practice for over three centuries.
Wagner Vineyards Estate Winery – Lodi, New York
Whether you like your wine sweet, white, red, or dry, this vineyard will have something to suit your palate's needs. The place also has a brewery for people who enjoy craft beer. However, it's the quality of these wines that take the cake. Only six years back, Wagner Vineyards Estate Winery won 28 awards for its dry Riesling.
Wrapping Up!
Now that we're done listing some of the best wineries in New York State, it's safe to conclude that the state was rightfully awarded the title of being the second-highest producer of wine in the country. The number of wineries here will have you wondering where to go first. Through this list, we hope to have made the task easier. Whether you like it red, white, sweet, or dry, know that the state has something for everybody.