Do you want to travel without all the hassle and time wastage in long airport lines? To avoid these issues, fly from Westchester County Airport. Even though it is smaller than the main Airport in Manhattan, which is an hour away, it is still easier to board a flight from here.
White Plains Airport (HPN), also known as Westchester County Airport, is six miles northeast of the White Plains in New York. This county airport serves Bridgeport and Stamford in Connecticut and the northwest boroughs of New York City, comprising Yonkers, Rye, and New Rochelle.
History of Westchester County Airport
As a station for the Air National Guard to guard New York City throughout World War II, Westchester Airport was constructed in 1942. From 1949 till 1983, when the Air National Guard shifted its activities to the neighborhood's Stewart International Airport, civil aviation and the Guard shared the site.
Westchester Airport currently serves well over 1.5 million travelers annually, which is rising. Nearly 75 percent of all flights arrive and depart from the airport under 15 minutes from their scheduled arrival and departure times, which speaks volumes about how quickly flights arrive and depart from the airport.
Flight Operations
Currently, three charter airlines with seasonal and five scheduled airlines service Westchester Airport. American Eagle, Delta, United Express, Delta Connection, and JetBlue Airways are scheduled airlines. These airlines provide service to Charlotte, Fort Lauderdale, Orlando, Fort Myers, Detroit, Atlanta, Tampa, West Palm Beach, O'Hare Airport in Chicago, and Reagan National Airport in Washington, DC. Naturally, connecting services are offered to locations both domestically and abroad.
There is a summer charter service between the Westchester New York Airport and Martha's Vineyard and Nantucket in Massachusetts.
Airlines Operating At Westchester County Airport
Here is the list of airlines that are scheduled to operate at the airport.
American Eagle
The American Eagle flight from Westchester directly goes to Charlotte, Washington Airport, and the O'Hare Airport in Chicago. There are flights to Miami as well during the spring season.
Breeze Airways
There are several destinations to which a Breeze Airways flight can take you from Westchester county airport, such as:
Charleston
LA
Norfolk
Sarasota
Nashville
Jacksonville
Savannah
Cape Air
Cape Air will fly you to Lebanon directly from Westchester county airport.
Delta Air Lines
There is a direct flight to Atlanta on Delta Airlines from Westchester.
Delta Connection
There are three places where Delta Connection can take its passengers from Westchester, which are Boston, Atlanta, and Detroit.
JetBlue
The JetBlue boards passengers to Fort Lauderdale, Orlando, West Palm, Fort Myers, and Tampa, and it seasonally takes you to Nantucket.
JSX
The flight of JSX from Westchester is to Miami.
United Express
If you want to reach Chicago Airport, take this direct flight from Westchester county Airport.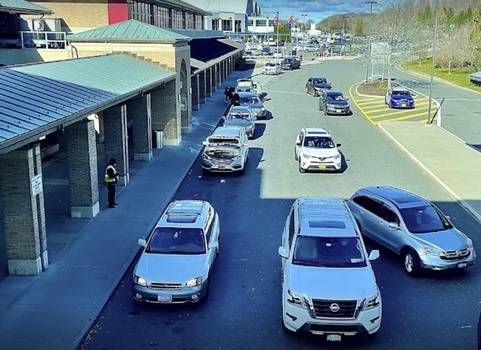 The Busiest Domestic Routes
Here are the top 10 domestic cities served by flights from Westchester County Airport; while there are plenty more that ought to be included on the list, these have topped the chart (the list is according to the highest number of passengers that boarded):
West Palm Beach in Florida
Atlanta in Georgia
Orlando in Florida
Fort Lauderdale, Florida
Chicago (O'Hare Airport)
Charlotte in North Carolina
Fort Myers in Florida
Washington DC
Tampa in Florida
Detroit in Michigan
How To Get To The Westchester Airport From New York or Vice Versa?
There are several ways to travel to and from Westchester Airport. However, the most practical and dependable alternative is to reserve a dependable Blacklane airport shuttle service within New York to wherever you need to go.
The next best choice might be to use public transportation or rent a vehicle yourself if you only have about an hour to travel from the airport to the destination.
The airport is connected to various locations in Westchester County and downtown White Plains by the public Bee-Line bus service. White Plains and Grand Central Station in New York City also have the same MTA Metro-North Railroad route. Use the bus to get to White Plains and the railroad to reach Manhattan.
Six large automobile rental businesses serve the Westchester airport. Alamo, Budget, Avis, Hertz, National, and Enterprise are included. The automobile parking lots are close to the baggage claim area, and the car rental counters are inside the terminal due to the small size of Westchester NY Airport.
Where to Stay Near the Airport
There are several hotels within 5 miles of the airfield grounds, even though there are no hotels specifically labeled as Westchester Airport hotels. While Westchester is just around 35 miles from New York City, lodging at a hotel near the airport can be helpful if you arrive late at night or depart from Westchester early in the morning.
Here are some of the hotels that are near the airport and have other amenities which make them the best ones in the area:
Crowne Plaza, White Plains
This Crowne Plaza hotel is just 3.7 miles from Westchester Airport and is near the Westchester Mall. It has 402 rooms and suites, all of which come with quality linen, high-end toiletries, and free WiFi. The pricing for the elite-level rooms includes a daily breakfast buffet and a cocktail hour in the late afternoon.
Furthermore, there is a coffee shop, two restaurants, a 24/7 business lounge, a gift shop, a gym, and a pool in the hotel for guests.
Hyatt House
The Hyatt House is also at a similar distance from Westchester airport. It has 159 guest suites with one or two bedrooms on all four floors of the hotel, each with a fully functional kitchenette, sleeper sofas, and free high-speed WiFi. The accommodation rates include breakfast. Moreover, a 24/7 convenience shop, a gym, a conference center, and an outdoor pool are available as amenities at this establishment.
Wrapping Up!
If you like to travel easily, White Plains airport is the best airport that offers all domestic flights to essential destinations, especially to Florida. Instead of getting stuck at the big and busiest airports, have hassle free flights from Westchester. Furthermore, there are many ways to travel to New York city once you land here.