America's first tennis stadium, Forest Hills Stadium, was the birthplace of the U.S. Open tournaments. It was converted into a music concert venue in 1960, from where it began booking one big name after another. Its structure was designed to optimize the acoustics and provide an obstruction-free view to its attendees.
Located in Forest Hills, Queens, in New York City for more than 100 years, this 13,000-capacity stadium is one of its kind outdoor venues in the city. Celebrations of Forest Hills Music Festival have allowed the people to enjoy the greatest icons starting from Frank Sinatra, The Rolling Stones, Barbra Streisand, and Bob Dylan to the new superstars, including Dolly Parton, Drake, The Alabama Shakes, Ed Sheeran, Mumford, and Sons, among others.
This historic outdoor music venue stadium is located in a picturesque area with multiple eateries and bars nearby.
Where is it?
Forest Hills Stadium is located at 1 Tennis Pl, Forest Hills, NY 11375, and the entry to the venue is at Burns St near 69th Ave.
Fair warning: The stadium does not offer parking, so do not drive yourself up to the venue in hopes of getting a place anywhere near the streets to park. The preferred way is to take public transit on LIRR to Forest Hills or the MTA Subway at 71st Forest Hills.
If taking a taxi or using a rideshare app, plan pickups and drop-offs on the corner of 71-Continental Avenue and Queens Boulevard.
Historical Performances
Over the course of the stadium's 100+ year history, there have been more than a few world-class acts. The venue has hosted some iconic and record-breaking athletes and legendary musicians who have drawn huge crowds each night. Forest Hills Stadium has also been privy to athletes' breaking of color barriers.
The singer and guitarist Paul Simon and singer Art Garfunkel took the stage at Forest Hills Stadium during the annual Forest Hills Music Festival of 1966, 67, 68, and 70. Paul Simon made a solo comeback to the stadium in 2016 and gathered an even greater crowd.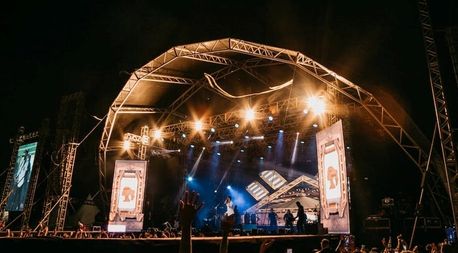 The Gibb brothers, Maurice, Barry, and Robin, with Vince Melouney and Colin Petersen of the Rock and Roll band the Bee Gees, performed at the annual Forest Hills Music Festival of 1968. The Bee Gees made it to the Rock & Roll Hall of Fame in 1977 and received international fame, with more than 220 million record sales.
Barry Manilow performed in 1978 and returned for another season in 1980. Along with him, the history of Forest Hills Stadium is full of artists who made a successful comeback to the iconic venue. David Byrne, Chris Frantz, Tina Weymouth, and Jerry Harrison of Talking Heads performed from 1971 to 1999. Bob Dylan, Frank Sinatra, Donna Summer, and Simon & Garfunkel need no introduction; They continued to book the stadium solid for many years.
The Beatles hold the record for one of the most iconic concerts in the history of Forest Hills Stadium. The band landed on the grass court via a helicopter in August 1964. More than 16000 fans chanted the lyrics along with the band for two nights in a row while many disappointed fans had to be turned away from the stadium.
Sinatra had a track record of three successful concerts in 1965 and two in 1977. The crowds greeted his first commercial appearance in eight years with such enthusiasm that the producers ended up booking him for the third show in 1965. All his shows have been complete sellouts.
Barbra Streisand, The Who, Santana, and Hall & Oates are a few more legends who have rocked the Forest Hills Tennis Stadium since its conversion to a concert venue.
Green Initiative
The administration at the Forest Hills Stadium is all about making the stadium environmentally friendly and offsetting the impacts after each concert. The Forest Hills Stadium 2022 concert season was successfully kept climate neutral to achieve the goal of acting as climate positive. Everything from the concession areas to backstage booths and beyond was environmentally friendly.
Onsite Features
The stadium has employed the following features to keep it as environment-safe as possible:
Free refill stations for drinking water
Solar-powered phone charging stations
Recyclable packaging
A grand recycling program preventing recyclable materials from making their way to landfills
28 upcycled shipping containers onsite being used as bathrooms, artist dressing rooms, bars, and other practical spaces
Energy-efficient lighting for all onsite lighting fixtures
Use of shore power for artist's production needs
Eliminating air pollution and reducing fuel consumption from trucks and tour buses by encouraging the use of public transport
Upcoming Events
The famous EEEEEATSCON NY 2022 will be held on Sat & Sun, October 8-9, 2022. The doors will open at 12:00 PM, and the show will begin at 12:00 PM too.
Prohibited Items
The administration has prohibited the following items at Forest Hills Stadium:
Coolers
Blankets
Umbrellas
Chairs
Attachable Seat Backs
Outside Food or Beverages
Strollers
Weapons
Glow Sticks
Laser Pointers
Recording Equipment
Incendiary devices
Professional Cameras
Large backpacks or bags
Pets
Camelbacks
Drones
Glass Containers
Spray Paint
Sharpies, Markers, Paint Pens
Frisbees
Restaurants Inside the Forest Hills Stadium
Visitors cannot bring food inside the historic stadium; fortunately, there are many great options to eat inside.
Vendors have set up their establishments on the front lawn. You can find all sorts of foods ranging from Arrosticini – lamb skewers from D'Abruzzo, Lobster and Rock Shrimp Rolls from The Fulton Landing Seafood Company, Diavola – wood-fired pizza from Ponti Rossi, to pretzels from Knot of This World.
Warung Roadside booth serves Thai-flavored dishes such as the Holy Basil Stir Fry. Big Mozz's fried mozzarella sticks and Cookie D.O.'s fried balls of cookie dough taste exceptionally well.
Ice & Vice have joined forces with Renegade Lemonade to serve refreshing beverages and delicious frozen treats.
The Malaysian Project's version of a Ramly-style burger is an experience of its own.
Restaurants Outside Forest Hills Stadium
Nick's Pizza
Irish Cottage
Shake Shack
Tamashii Red
Xin Taste
Violet's Bake Shoppe
Snowdays
Station House